Over the past few months, the transition to distance learning created many challenges for teachers, students, and parents.
In many regions of the country, these challenges have been compounded by the economic ripple effects of the pandemic. For students and families in Ector County ISD, these added layers of trauma are significant.
Located in Odessa, Texas, the district serves 34,000 students, 56% of which are living in poverty. Odessa lies in the heart of the Permian Basin, one of the world's most productive oil fields. The impact of COVID-19 on the oil industry has significantly impacted the community in Odessa and – consequently – many parents of Ector County ISD students.
While the spring months are when most districts tend to administer traditional surveys to assess school climate, it was clear to Dr. Scott Muri (Superintendent of Ector County ISD) that in the midst of this unprecedented situation, it was crucial to hear from students and staff.
In a session at the 2020 TASA Virtual SummerCon, Dr. Muri shared details about the surveys that ECISD conducted, what the results revealed, and how the district is using this data to inform their future remote learning and school reopening plans.


[Download] Survey content to understand student, family, and staff needs during distance learning.


ECISD's Listening Opportunity

Thursday, March 5, 2020 was the last day of school before our students were scheduled to start their spring break. I can vividly remember leaving the office the following day and saying goodbye to all our staff and teachers. But, over that weekend, when we and the rest of the country started to realize the impact of the coronavirus, we pulled our district leaders back and started to put together a distance learning plan.
Almost overnight, we rolled out a remote learning experience for grades PreK-12. Our students cannot afford to miss a moment of instruction, and our central office team used the spring break period to develop a plan and onboard our teachers.
After quickly pivoting to this remote learning experience, we partnered with Panorama to create a set of surveys to better understand and address the needs of the district community. The questions were designed to capture comprehensive feedback from our students and staff about their general wellbeing, their experiences with the shift to distance learning, and their access to resources.
In other words, we wanted to learn: what has your experience been with remote learning, how are you doing as a person, and what do you need (as a student or as a professional) to succeed in this new learning space?
The results indicated what we feared (but largely anticipated) would be true: low student engagement, feelings of boredom and stress, and a major lack of internet access.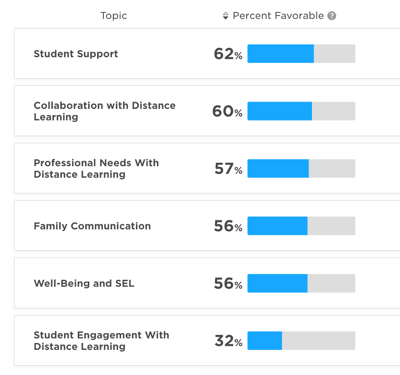 Almost half of our students in grades 3-5 reported that they were experiencing boredom either 'almost always' or 'frequently.' This was due – in large part – to a lack of opportunities to communicate or collaborate with their classmates. The feedback illustrated just how much our students longed for chances to connect with their peers and work with them on projects, an element of in-person education that was minimized during remote learning.
Similarly, only 25% of elementary students felt challenged by their school work during distance learning. Whereas the majority of these same students responded positively to questions about academic rigor in the past, the removal of a face-to-face learning experience in ECISD yielded a drastic drop-off.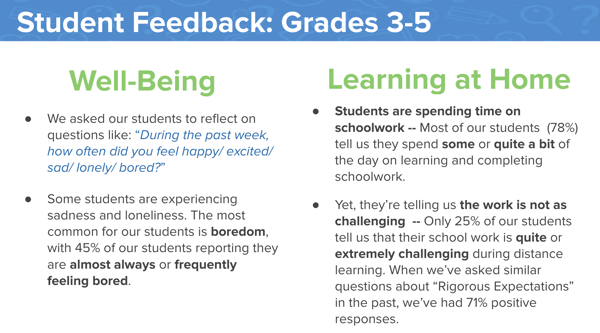 Educator feedback reflected a similar sentiment, with 75% of our staff members reporting that their students were not highly engaged in distance learning. In terms of virtual attendance, things did not look much better—70% of the staff indicated that half of their students (at most) had participated in distance learning in the past week.
In our secondary schools, stress was an overarching theme. Three quarters of our middle school and high school students reported that they were stressed. Several factors – including heightened awareness of current events through social media and additional responsibilities (such as taking on a job) due to a parent losing their job – likely amplified the academic stress of adjusting to distance learning.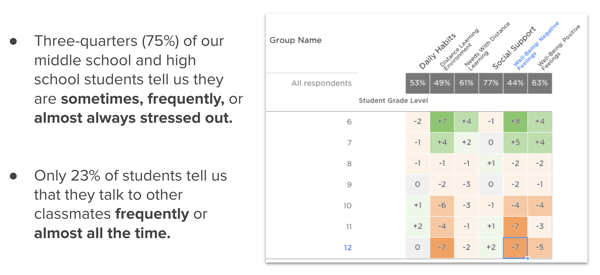 Finally, when asked about their students' internet access, our staff reported that 39% of students 'sometimes,' 'rarely,' or 'never' had internet access at home this spring. Almost 4 in 10 students in our schools were restricted from participating in distance learning due to a lack of resources.
For myself and the team at ECISD, the data clearly indicated that a priority for our educators was going to be addressing learning recovery for students. Although most students will be entering a new grade when they return to school in the fall, research from NWEA suggests that these children may be nearly a full year behind what we might observe in normal conditions when it comes to subjects such as mathematics and ELA.



Developing an Equitable Response
After reviewing the survey results, our leadership team moved quickly to introduce new programming and policies to help all students and their families this summer and into the fall.
In addition to setting up a new "family support help desk" to give students and families a way to connect with counselors over the phone, we honed in on a goal of removing connectivity barriers to ensure that all 34,000 students have access to high-speed internet in their home.
"When we think about equity and ensuring every single one of the 34,000 students in our districts has the same opportunity to learn at a high level, the data says that 39% of our students clearly do not have the same opportunity. Even if that was just 1%, it is still a problem."
This finding from the staff internet connectivity survey launched a significant stream of work within the district to address broadband access gaps in the region. We started with a landscape review to better understand the pockets within the districts that students were residing in but did not have high-speed internet access. Now, equipped with a map of areas without coverage, we have started working with local government officials to identify creative, long-term solutions (versus short-term, "bandaid" fixes) to move toward broadband access for every family in Ector county.
At the end of the day, when we administer the same survey again in a few months, our goal is for the percentage of students without high-speed internet access to be 0.



Creating an Equitable District Strategy for Distance Learning and Reentry
In thinking about this summer and looking ahead to the fall and the district's reopening plan, we knew that we needed to be guided by a set of principles that reflect what we believe about children and about learning. We created this set of guiding principles to specifically help us drive the current work that we are doing as we think about the opening of schools next year.
Equity is the big driver. The solutions that we implement over the summer and introduce in the fall for our students will all be about equity. We must ensure that each and every one of our 34,000 children have an opportunity to have access to a high quality, rigorous education. We will not stand by and wait for others to act – we will lead this movement on behalf of all students at ECISD.
All of the decisions that we make as a district will be guided by these principles:
We are driven by equity for every child. Every child in ECISD deserves a high quality rigorous academic experience.
We are a district of leaders and will be on the forefront of this movement to improve education for children.
We believe that our most fragile students should be taught by our best educators.
We believe in meeting students where they are academically and socially/emotionally.
We believe students deserve a learning experience that is personalized.
We believe in acceleration over remediation and the scaffolding that supports acceleration.
We believe that assessment using multiple measures drives learning.
We believe that our use of resources to support learning, both fiscal and human, must be effective and efficient.
We believe the parents/guardians of our students as well as our community are integral to success.
School this fall will be very different from anything we have experienced in the past. Because of the change that our students, staff and families will undergo, keeping our eyes and ears on the pulse of our community is going to be paramount. We will continue to listen throughout the fall to the voices of all of our stakeholders.
Dr. Scott Muri is the superintendent of schools at Ector County Independent School District in Odessa, Texas. Prior to joining Ector ISD in July of 2019, he served as the superintendent of Spring Branch Independent School District in Houston, a position he held for four years.