Social-emotional learning is a key component to ensuring that every student thrives in school and beyond.
Yet, an important—but often overlooked—consideration when implementing SEL curricula with fidelity is how to celebrate students' cultural backgrounds as the foundation for developing social-emotional skills.
Students, educators, and school leaders enter our campuses and classrooms with a wide range of cultural backgrounds. Their application of SEL skills is largely context- and culturally-dependent.
If social-emotional learning instruction is not culturally responsive to (and equitable for) all students, lessons may seem irrelevant to students' realities—or, even worse, cause harm.
In this article, we'll begin by unpacking the definition of culturally responsive social-emotional learning. Then, we'll share three culturally responsive SEL activities that you can implement in your school community.
Download the Panorama Social-Emotional Learning Survey [includes questions for students and staff on cultural awareness and action].
Key Terms

Cultural Identity: The identification with (or sense of belonging to) a particular group based on various cultural categories, including: nationality, ethnicity, race, gender, and religion (Center for Intercultural Dialogue, 2014).
Culturally Responsive Teaching / Pedagogy: Practices and approaches that support culturally and linguistically diverse students who have been marginalized in schools to build their skill and capacity to do rigorous work (CASEL, 2020; Hammond, 2018). Culturally responsive teaching practices recognize the importance of including (and honoring) young people's diverse cultural identities in all aspects of learning. In short, students' cultural experiences are featured as a key part of instruction.
Culturally Proficient SEL: Learning experiences that are respectful of students' diverse backgrounds, identities, and strengths (Massachusetts DESE, 2020). Culturally proficient SEL programs gear lessons toward students' cultural experiences and relate these experiences to the classroom,
Culturally Responsive SEL: SEL practices and lessons that both draw upon students' unique strengths and experiences while orienting learning in relation to individuals' cultural context (Gay, 2013). Students' diverse backgrounds, identities, and strengths are explicitly celebrated, explored, and supported as a strategy to deepen learning and competency development.

What Is Culturally Responsive SEL?
Many broad behaviors and social-emotional learning competencies are found across cultures. Social and cultural factors heavily influence the ways in which these are defined and expressed.
Culturally responsive SEL recognizes this reality by incorporating students' cultural identities as assets within instruction. When SEL lessons explore core competencies, the content acknowledges, respects, celebrates, and embeds students' cultural knowledge, experiences, frames, and perspectives. This makes the lessons more relevant and engaging for students.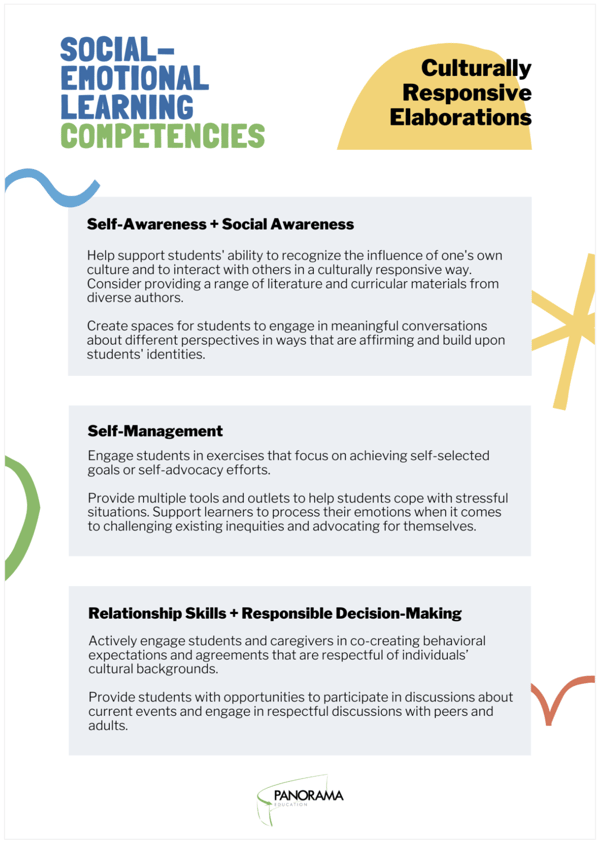 When implementing culturally responsive social-emotional learning in school districts, building adult capacity is crucial. Educators must work to both understand their own cultural identity and biases as well as honor the cultural backgrounds that their students bring into the classroom.
Culturally responsive social-emotional learning can help build learning environments that enhance engagement, lead to better student outcomes, and improve well-being for learners and adults.
Read about how Washoe County School District is using Panorama data to move towards a culturally responsive SEL curriculum.
Explore 3 Culturally Responsive SEL Activities
Now that we've defined culturally responsive social-emotional learning, let's look at how to apply its principles to affirm and support the cultural identities of students.
Below, we've compiled three culturally responsive SEL lessons that you can implement in your classroom. Drawn from Panorama's Playbook and expert organizations, these strategies can help you intentionally learn about and integrate students' culture and identities into SEL practices.


Reflection Questions to Consider Pre-Implementation

[Before rolling out any culturally responsive practices, consider the following questions.]
What supports do we have in place that allow our adults to critically examine their own cultural identities and biases?
What professional learning opportunities are available to our staff that focus on the importance of respecting cultural differences and building cultural responsiveness?
How are different schools within our district deliberately building inclusive classroom environments? What supports can we provide to aid in these efforts?
Are we providing students with opportunities to engage in critical analyses of inequality and channel their energies toward challenging these inequities?
How are we assessing our school climate to understand student (and staff) perspectives on cultural awareness and action?
Activity #1: Classroom-Level Venn Diagrams

Courtesy of Learning for Justice
Lesson Overview:
By using the framework of a common mathematical concept, the Venn Diagram, students will explore unexpected areas of similarity with their peers, create positive relationships, and learn about classmates' backgrounds and experiences.
Recommended for students in grades 3-8.
Implementation Instructions:
1. Begin by dividing students in your classroom into groups of two or three. Ask each group to draw a Venn Diagram, with two overlapping circles for pairs and three overlapping circles for groups of three. Instruct students to label each circle with the name of one student from their group.
2. Supply a list of starter questions to your students. You can customize and adapt these questions based on the age of your students and their backgrounds. Possible start questions include:
In your group, who has two siblings?
In your group, who likes soccer?
In your group, who likes to eat ice cream?
In your group, who speaks Spanish at home?
In your group, who likes the color orange?
In your group, who lives with extended family members?
In your group, who rides the bus to school?
3. Instruct students to place the traits that they share into the correct section of the Venn Diagram, demonstrating the degree of overlap between the members of their group. Students should also place the non-overlapping traits into their respective circles.
4. Encourage students to think of their own topics and plot them on the diagram as well. Then, ask students to share surprising areas of similarity that they discovered during the exercise.
5. If you meet with individual students or with small groups of students, consider drawing a Venn Diagram with them and using similar questions. This can allow you to start to share more about your cultural identity with students while learning about their backgrounds.


CASEL Competency Alignment:
Social Awareness
Relationship Skills
Activity #2: Let's Talk It Out: Practicing Perspective-Taking

Courtesy of Newsela
Lesson Overview:
How do you talk to someone who has a different opinion? Practicing perspective-taking is an essential life skill that supports conflict-resolution, communication, and thoughtfulness. In this activity, students practice empathizing with someone else's (differing) point of view and learn to suspend judgment so they can make informed decisions based on their values, opinions, and the perspectives of others.
Recommended for students in grades 6-12.
Implementation Instructions:
1. Register yourself and your students for Newsela. Assign the article "Teaching Tolerance with Politics" to your class.
2. Before Reading: Ask students to write, pair, and share: "What's your favorite flavor of ice cream?" or "What is the best sport?" Then have students discuss their point of view with someone who does not have the same opinion. Come back together as a class and discuss if they could understand their partner's opinion on the matter.
3. Reading Strategy: Have students highlight in GREEN words and actions that show tolerance.
4. After Reading:
Respond in Writing:

Think about someone in your life that has a different opinion about something. How could you go about talking to that person about their beliefs using Winokur's strategies? Cite at least two parts of the article as evidence.

Reverse Debate: Have students choose a side (either "in favor" or "against") for a topic like school uniforms, cell phones at school, or weekend homework. They should research the opposing view and develop an argument for the side that they are opposed to.
Reflect: how did this exercise change your view on this topic? Even if it didn't change your mind, how might this change the way you talk about this topic with someone who has a different viewpoint?
If a student is able to practice perspective taking when it comes to "safe" topics like ice cream flavors and weekend homework, they will be equipped to have tough conversations and engage in healthy debates and disagreements in the future.

CASEL Competency Alignment:
Self-Awareness
Self-Management
Responsible Decision-Making
Activity #3: Student Sharing

Courtesy of Responsive Classroom
Lesson Overview:
Providing opportunities for students to share about themselves and learn about each other helps build a positive classroom community, which is foundational for building positive cultural connections and understanding. Through sharing, students learn and practice clear, respectful, caring, and empathic communication, while building trusting relationships among peers.
Recommended for students in grades K-6.
Implementation Instructions:
Student sharing is complex, with many skills required to make it successful. Creating an emotionally safe, kind and respectful atmosphere is an important first step to make it culturally responsive. One way to do this is to explicitly teach those skills, including the jobs of both the sharer and the listener.
Jobs of the Sharer: Sharers will need to know how to use a strong, clear voice, look at the audience, and ensure what they say is brief, focused, and on-topic. Here are some strategies you can use to support students as they learn these skills:

Brainstorm for ideas.

Ask students to brainstorm possible responses to a topic. For example, when sharing about favorite foods, brainstorm a list of all kinds of foods, not just typical lunch, dinner, dessert and snack foods. Encourage students to think about the foods they cook and eat for special occasions, holidays, and religious celebrations. Perhaps they can share about a dish only eaten when visiting with certain relatives. Consider charting the ideas to give students a variety of personal experiences to draw on.
Use sentence stems.

Posting a sentence stem that students complete will help them keep the share focused. In younger grades, sentence stems can support students in learning to use complete sentences. For example, a first-grade sentence stem might be, "A special food I like to eat is_________." Sentence stems can also help older students formulate more complex sentences. For example, a seventh grade sentence stem might be, "When I celebrate_________ I like to eat_________ because_________."

Jobs of the Listener: Listeners will need to know how to remain quiet, maintain self-control, and demonstrate active listening. As the students' sophistication with sharing evolves, listeners need to remember what was said and then formulate questions that show interest and elicit more information. Here are two skills to teach:

Remembering details.

Before an around-the-circle sharing, alert the students that you will play "Who Remembers?" after. Brainstorm strategies for remembering what was shared. When everyone has shared, ask questions to prompt recall.
Generating effective questions.

Effective questions acknowledge and encourage the sharer. Discuss with students what makes an effective question, including keeping questions positive and supportive rather than challenging. Explain that questions should show interest in the sharer and their news and that questions could also elicit new information or clarify details. Use question words, such as who, what, when, where, why and how, to support students in asking questions of the sharer.
An ideal time for student sharing is during morning meetings in elementary schools and advisory meetings in middle schools.


CASEL Competency Alignment:
Self-Awareness
Social Awareness
Relationship Skills
---
When educators, school leaders, and student support staff ground all social-emotional learning in the cultural uniqueness that makes us all different, we can better ensure that our students will reap the full benefits of SEL instruction.
Further your learning with these resources: