Panorama helps Texas districts measure what matters
Learn how Panorama's tools for educators align with the seven pillars developed by TPAC.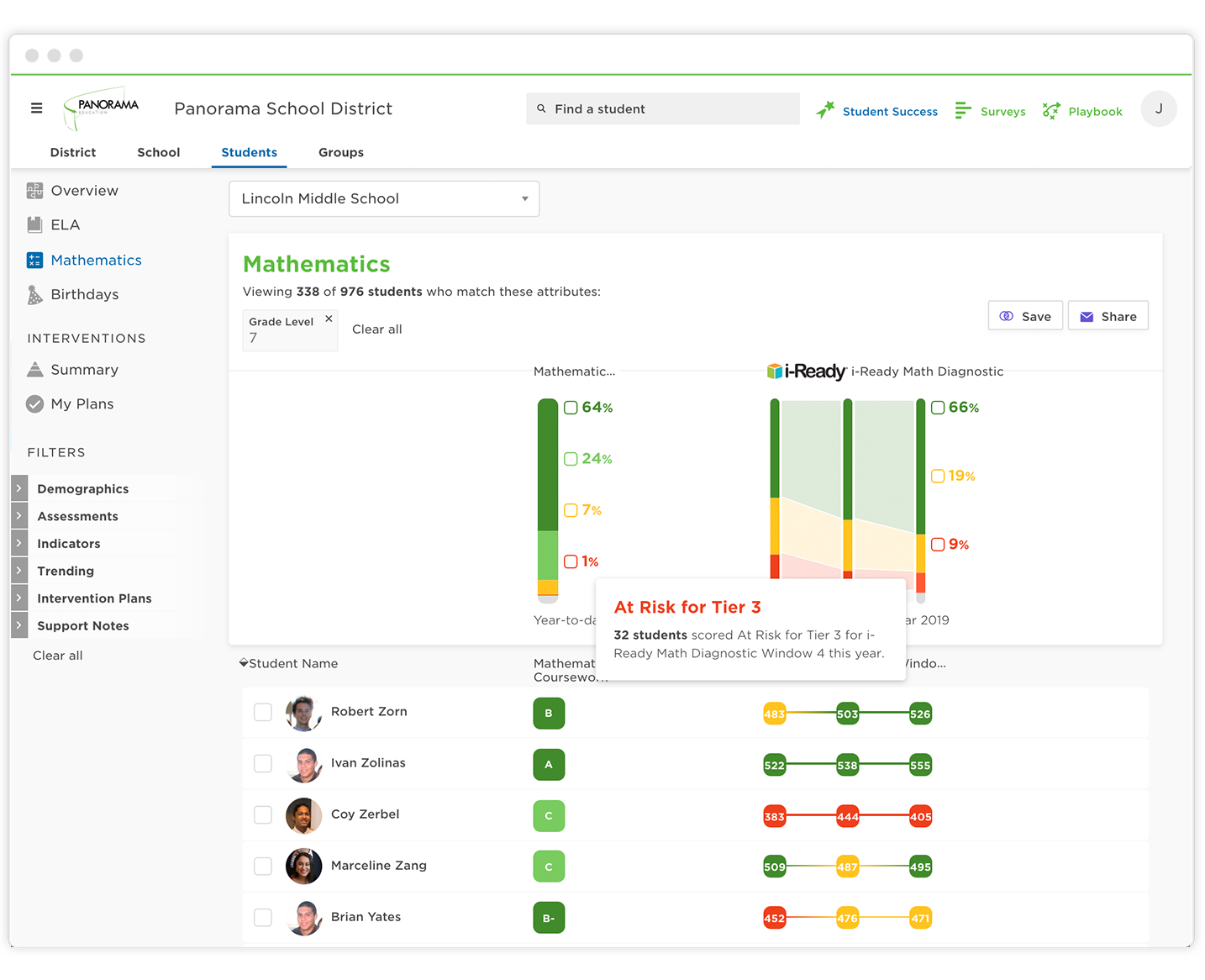 Powerful tools to support student success in Texas
With Panorama, get the insights you need to promote student learning, college-career readiness, and community engagement.
Understand each student's SEL skills
Use reports to empower students to engage actively in their own SEL and to provide adults with a platform for powerful developmental conversations.
Measure school climate, safety, and community engagement.
Collect feedback from students and families to drive strategic planning around school climate and culture
Monitor student progress across academics, behavior, and SEL
Bring all of your student data into one place to identify and support students at every tier.
Request a Demo
Take a tour of Panorama Student Success
Schedule a demo with our team or give us a call at (617)-356-8123
Schedule a demo for your school or district:
Pillar 1: Student Learning & Progress

"Ensure academic success for all students"

With Panorama:

Monitor student growth across academics, behavior, attendance, and social-emotional learning (SEL) in one platform.

Principals, counselors, and teachers can identify student needs at each tier, plan interventions, and progress monitor with an eye towards closing achievement gaps and ensuring success for all students.
Pillar 2: Student Readiness

"Ensure students are well prepared for their next level of education and post-secondary success"

With Panorama:

See how many students across your district and at each campus are "On Track" for post-secondary success and who may need additional support.

Measure and understand student progress towards competencies necessary for life after graduation—such as Self-Management, Social Awareness, and Emotion Regulation.
Pillar 3: Engaged, Well-Rounded Students

"Engage students in a way that contributes to their overall development and future well-being"

With Panorama:

Measure and understand students' social-emotional development around competencies that contribute to future success and well-being, such as Self-Management, Social Awareness, and Self-Efficacy.

Use student voice data to involve students in their own development and to drive character education work across your district.
Pillar 4: Community Engagement & Partnerships

"Ensure that local citizens are a meaningful, integral part of a CBS and can and will support their local public schools"

With Panorama:

Elevate stakeholder voice when crafting and measuring your community-based accountability framework.

Gather and act on community feedback using Panorama's research-backed, customizable survey instruments. Analyze the results in our reporting platform with national benchmarks and a library of action-planning resources.
Pillar 5: Professional Learning/Quality Staff

"Ensure that every student has quality teachers and adults in the schools that care about students, their learning, and their well being"

With Panorama:

Understand how staff feel about their professional learning, resources, and coaching. Take advantage of Panorama's professional development workshops for educators customized to individual district and school data.

Empower educators to measure progress towards their professional learning goals through access to real-time student progress data.
Pillar 6: Fiscal & Operational Systems

"Ensure the district is using its resources to further its mission to educate the students it is assigned to serve"

With Panorama:

Address all seven pillars in a unified platform. Collaborate across departments to support the students, staff, and community members in your district. Uncover the areas of greatest need in order to allocate resources most efficiently.
Pillar 7: Safety & Well-Being

"Ensure students are educated in an optimal environment that is safe, secure, and conducive to learning"

With Panorama:

Measure student and family perceptions of psychological and physical safety at school. Elevate student voice and keep track of social and emotional well-being.

Access Panorama's Playbook of strategies to improve overall school climate and well-being from our partners at Character Lab, Transforming Education, Teaching Tolerance, Second Step, and others.
Learn more about bringing Panorama to your district
Contact Panorama
Get insights with a technology platform that supports student success
Schedule a demo with our team or give us a call at (617)-356-8123
Schedule a demo for your school or district: