Over the last few years, a strong belief that social-emotional learning (SEL) is intimately connected to academic learning has taken hold across Virginia. To division and school leaders, SEL is not a separate initiative. SEL is the work.
Supported by guidance from the Virginia Department of Education (VDOE), many school divisions across the state have made exemplary strides in SEL. The COVID-19 pandemic has further centered this work. During the 2020-21 school year, Panorama's partner divisions have doubled down on SEL, relationships, care, and connection to address increased anxiety and stress among students and teachers.
Student voice has played an important role in supporting this SEL work. By administering the Panorama Social-Emotional Learning Survey, district and school teams in Virginia have been able to better understand the student experience, celebrate students' strengths, and understand where students need extra support socially and emotionally.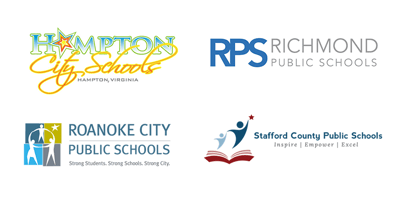 To bring our Virginia partner divisions together to share common experiences, we hosted a meet-up with district leaders at Hampton City Public Schools, Richmond Public Schools, Roanoke City Public Schools, and Stafford County Public Schools. They discussed trends in their Panorama SEL data, how they've rolled out the data to stakeholders, and how they plan to act on the information in service of their students.



Trends in Student SEL Data Across Virginia
What Students Are Saying About Supportive Relationships and Self-Efficacy

For our Virginia partners, Panorama data has offered a valuable window into the student experience—especially during virtual learning. For example, Roanoke City Public Schools (RCPS), a division committed to trauma-informed school policies, used the Panorama SEL survey to understand how students perceived their relationships with adults at school.
"When we went virtual, we were concerned that our focus on supportive relationships wouldn't translate. But it did show up as a strength in our survey results." Decca Knight, coordinator of trauma-informed care and elementary counseling at RCPS, said. "We also saw areas in which we needed to put more focus, but we were happy to see that we achieved our goals with supportive relationships."
At Stafford County Public Schools (SCPS), the district observed a similar strength in teacher-student relationships. SCPS's Panorama data helped validate "the power of sincere care for students" as displayed by their frequent check-ins with students during the pandemic, explained Melanie Daniel, supervisor of student services and special education at SCPS.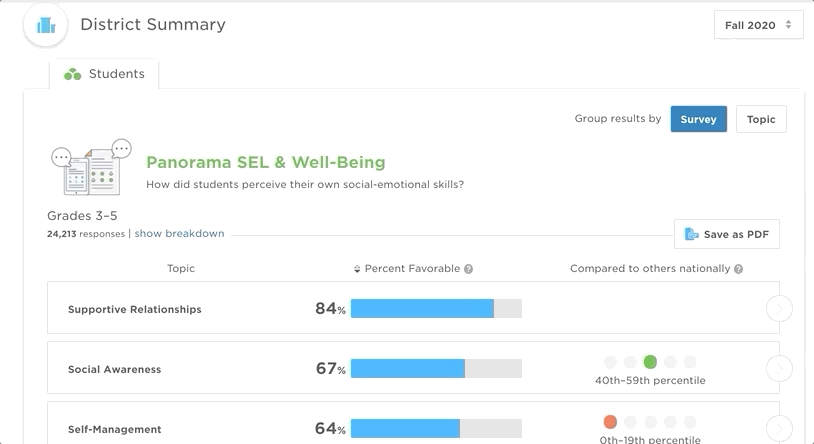 Panorama SEL reports (demo data pictured)
District leaders at the meet-up also noted areas for growth in their Panorama SEL data. Harry Hughes, chief schools officer at Richmond Public Schools (RPS), shared two areas of focus for his district: helping students build self-efficacy and helping students better advocate for themselves.
"We thought that students would overestimate their skills, but they were actually honest and hard on themselves," Hughes said. "Our Panorama survey results demonstrated that we need to build the confidence of students academically and their ability to advocate for themselves in a meaningful way."
Download the Panorama SEL Survey for students and adults.


Releasing the SEL Data to District and School Teams
At the meet-up, school divisions also shared their thoughtful approaches to releasing SEL data to staff members and community partners. Most divisions took a phased roll-out approach. For instance, RCPS started by sharing the SEL data with counselors and then made it available to administrators.
Similarly, at SCPS, they created a timeline for sharing the data during "results meetings" with high-level leadership, district administrators, building administrators, and school SEL/Panorama leads.
"When the 'truth' came back in our data at SCPS, the Panorama team modeled strategies to help us disarm our staff and prepare them to hear information," Daniel said. "Instead of framing it as, 'You're not doing well,' we framed it as 'This is what our students are telling us.' We had never asked our students these questions before, so it was important to explain to our staff that because we asked these questions, we now know what our students need."

How Divisions Are Taking Action on the Data to Support Social-Emotional Learning
While measuring SEL is still relatively new for the Virginia partner divisions who joined the meet-up, they're already brimming with ideas for taking action on the data—from integrating the data into daily instruction to delivering targeted supports. Here's what they shared about their plans.
At Hampton City Schools:
"SEL is the way we do business in Hampton. One example is we've created a SEL Toolkit in partnership with classroom teachers. Our language arts department has been a champion of embedding this work in the curriculum, and our science department has been right there with them. Teachers are telling other teachers about the resources."

–Trena Hatcher, Director of Climate and Culture at HCS

At Roanoke City Public Schools:
"Our counselors and administrators are using the results to build programming in their buildings and to identify groups of students who need tier 2 or 3 supports. We are also sharing the information with community partners to identify areas of need that can be serviced in our community through programming. We also want to allow individuals in school buildings to craft what's best for their teams and their students."

–Decca Knight, Coordinator of Trauma-Informed Care and Elementary Counseling at RCPS
At Richmond Public Schools:
"All of our staff and teachers have made morning community circles a daily routine. We plan to use the Panorama data to improve our use of Second Step and to provide targeted support to students who are displaying negative behavior as a result of the toxic stress they are experiencing in their day-to-day."

–Harry Hughes, Chief Schools Officer at RPS
Download the Panorama Social-Emotional Learning Survey to learn more about measuring and supporting SEL.