Teachers who feel that their voices are heard and will contribute to decision-making are more likely to stick around, which is crucial during times of low school staff retention.
Surveys provide a way to elevate teacher and staff voices, helping school and district leaders address educators' professional, social, and emotional needs. (Tweet this.)
In this blog, we'll answer your teacher survey questions:
Download the Panorama Teacher Survey to get started gathering feedback from teachers and staff in your district.
What is a teacher survey?
Teacher surveys are questionnaires used for gathering educator feedback. Surveys can be delivered with pen and paper, through Google Forms, or with software designed to administer surveys aligned with best practices.
The data gathered from teacher surveys can spark productive conversations about important topics—such as adult well-being; capacity and efficacy around supporting students' academic, social, and emotional learning; cultural competency and awareness; school climate; relationships; and effectiveness of school leadership.
This critical data—when gathered regularly—help school administrators prioritize supports to teachers and staff, deliver targeted professional development, and create a more positive working environment.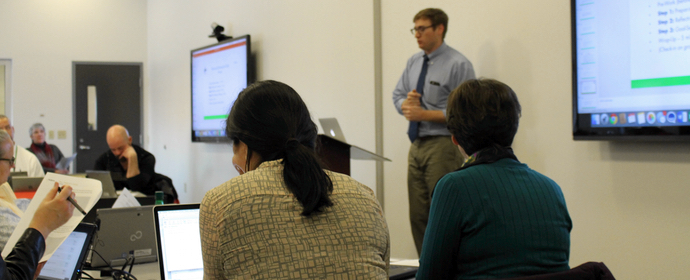 What does the research say about teacher surveys?
Teacher surveys have been used for decades to provide essential feedback to school and district leaders. The National Center for Education Statistics has surveyed teachers and principals since 1987, gathering critical data on teacher experiences and needs.
Research supports the use of surveys as an important tool for understanding school climate. The authors of a systematic review of school climate research concluded with a recommendation "that school climate measurement initially be conducted with the use of reliable and valid surveys."
There's also evidence to suggest that surveying teachers alongside students will provide a more complete view of school climate. Teachers and students tend to focus on different elements of school climate. Specifically, teachers may be more sensitive to classroom-level climate while students may focus more at the school level, so it makes sense to survey both audiences.
What makes a good teacher survey?
A good teacher survey will ask staff and teachers for their feedback on critical school-level topics, including relationships, professional learning, resources, and school climate. It will produce data that can help school and district leaders strengthen the work environment for adults as well as the climate for student learning.
Any survey should be written according to research-based best practices. These include:
Wording survey items as questions rather than statements
Avoiding "agree-disagree" response options that may introduce bias
Asking about one idea at a time rather than using double-barreled items (e.g., "How happy and engaged are you?")
Using at least five response options to capture a wider range of perceptions
The average teacher can answer about six questions per minute. Depending on teacher buy-in, you can run a survey as long as 15 minutes or keep it as short as five minutes as you build trust between teachers and administrators.
Once or twice a year is a good cadence for running teacher surveys. Many schools will do one at the beginning of the school year and another at the end to check for change over time.
We developed the Panorama Teacher Survey in line with the most cutting-edge thinking in survey design, and it has been used in thousands of schools.
Our survey helps school and district leaders learn more about their staff and teachers' experiences in their school and with school leadership. It gathers feedback to provide school and district leaders with a holistic understanding of teacher and staff perceptions and experiences at school.
Jenny Watson, Assistant Superintendent for Learning Support Services, Boone County Schools (KY) explains using Panorama surveys to gather educator feedback.
What questions should I ask in a teacher survey?
When surveying adults, we encourage schools and districts to select the topics that are most important to their school context or community. (Tweet this.)
For example, if adult social-emotional learning (SEL) is a priority, you might want to run a survey focused on that topic, with questions that will help you to understand and support teacher and staff adult SEL.
Consider these sample questions from five topics in the Panorama Teacher Survey.
Staff-Leadership Relationships
Perceptions of faculty and staff relationships with school leaders.
How much do your school leaders care about you as an individual?
How fairly does the school leadership treat the staff?


Professional Learning
Perceptions of the amount and quality of professional growth and learning opportunities available to faculty and staff.
At your school, how valuable are the available professional development opportunities?
How much input do you have into individualizing your own professional development opportunities?
School Climate
Perceptions of the overall social and learning climate of the school.
How respectful are the relationships between staff and students?
To what extent are staff trusted to work in the way they think is best?
Evaluation
Perceptions of the system that is used to evaluate faculty and staff.
At your school, how objectively is your performance assessed?
How effective is your school's evaluation system at helping you improve?
Well-Being
Faculty and staff perceptions of their own professional well-being.
During the past week, how often did you feel engaged at work?
How effective do you feel at your job right now?
Next steps: How do I make a teacher survey?
To start creating your teacher survey, download the open source Panorama Teacher and Staff Survey.
Think about what survey topic areas are most important and potentially actionable for your school or district. Consider focusing in on one of these common focus areas:
Watch the Using the Panorama Teacher Survey webinar to learn more about how to drive improvement with teacher and staff surveys in your school or district.
Be sure to get teacher buy-in before administering your survey. School leaders should have a conversation with faculty and staff about the value of their feedback.
Many schools and districts have achieved high response rates by framing the survey as an opportunity to give feedback on how school leadership can create a more inclusive, equitable, and supportive school community that benefits not just faculty and staff, but also students.
Close the loop by sharing aggregate survey results with stakeholders. Review the results together with your school community, and bring a growth mindset to facilitating discussions. Use the data to set goals and let teachers know how you will take action based on the feedback they have given you. (Tweet this.)
To learn about partnering with Panorama for survey administration, understanding survey results, and professional learning to support teachers and staff, contact us today.
Download Panorama's Open-Source Teacher Survey