Welcome to Get to Know Social-Emotional Learning! In this series, we'll take a deep dive into the core competencies of social-emotional learning (SEL). You'll learn about what they are, how they can impact student learning, and activities families and educators can use to strengthen these skills at home or at school.

***********************
Take a minute to imagine the following scene:

You are in a meeting before lunchtime. You're getting hungry, and really looking forward to lunch today—you've packed some of your favorite foods. The meeting runs a few minutes over, and as you rush out, a colleague pulls you aside and asks if you have time to discuss an urgent matter.

How would you feel? What might you do or say?

There are no right or wrong answers. By reflecting on your feelings and actions, you are demonstrating your self-awareness.

Self-awareness is a core competency of social-emotional learning. It is the ability to understand your own emotions, thoughts, and values and how they influence behaviors in different contexts, such as home or school. This includes being able to recognize your strengths and limitations.

Ready to learn more? Find the answers to your questions and curiosities about self-awareness in this simple guide. Then, share this resource with educators, families, and others in your community and return to it whenever you need a refresher! Get started below:
What Is Self-Awareness?
Self-awareness is the ability to recognize your emotions and manage your expectations and choices around your behaviors and actions. Simply put, it's your sense of self.

Self-awareness is one of the core SEL competencies in CASEL's framework. According to the World Health Organization (WHO), it is also one of the basic areas of life skills relevant across cultures.


Self-Awareness May Look Like:
Identifying emotions

Having an accurate self-perception

Recognizing strengths

Self-confidence

Growth mindset (the belief that we can change and grow)

Self-efficacy (academic self-esteem)


Self-Awareness May Sound Like:
How am I feeling and why?

When am I at my best?

When do I feel angry?

What kind of person do I want to be today?

What stresses me out?
Behaviors Associated With Low Self-Awareness:
Inability to empathize with others

Inability to name and express emotions

Unaware of how words and actions make others feel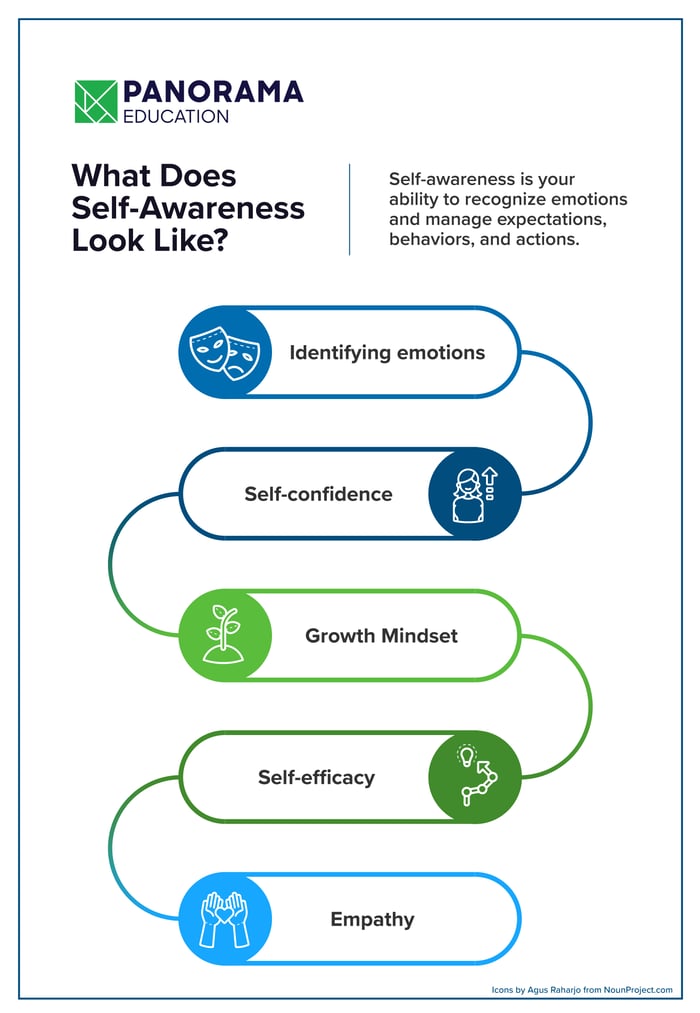 Spread the word: save and share this image with your community!
Why Is Self-Awareness Important for Students?
So what part does self-awareness play in school? Studies show that students with a strong understanding of emotions perform better academically and report higher levels of well-being. Self-aware students also have more positive relationships with teachers and classmates and engage in less risky behaviors.

Strong self-awareness skills continue to benefit students into adulthood. Knowing how to set, plan, and achieve short and long-term goals is critical for college and career success. In fact, business leaders frequently identify self-awareness as one of the top leadership skills.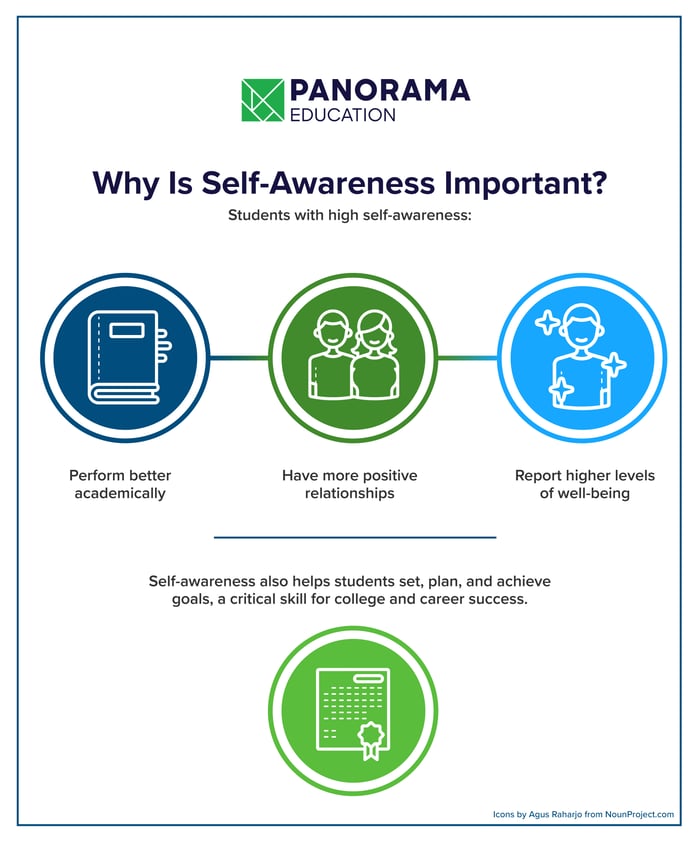 Spread the word: save and share this image with your community!
How Does Self-Awareness Show Up in the Classroom?
Students display self-awareness in the classroom every day. And when they do, they help to create positive, thriving school environments.

Here are some examples of how self-awareness might show up in the classroom:
A second grader is struggling with their reading assignment. Instead of saying "I'm bad at reading," and giving up, they realize they are feeling frustrated. They may take a break and ask for help before trying again. They know that they have the skills and tools they need to succeed.
Students in a sixth grade class are given the opportunity to correct their math tests in order to earn points back. A student with a strong growth mindset will take the opportunity to revisit their work, address their strengths and areas for improvement, and learn what they did wrong in order to improve.
Four tenth grade students are asked to work together on their science project. One student keeps asking the others to repeat the instructions and seems unfocused. Recognizing that they have all had this experience before, the other students explain the procedure again, and ask if there is anything else they can do to help their teammate.
Our Favorite Self-Awareness SEL Activity (For Students and Adults!)
Support students in building self-awareness in school or at home with "Rose, Bud, Thorn'' Journaling. This strategy is a great way to help students set goals and become independent learners. Adults can also use RBT as a meeting warm-up or icebreaker activity.
To begin, each person will consider a rose, a bud, and a thorn:
Rose – something positive that happened this past week
Bud – something you are looking forward to next week (alternatively, you can use "blossom" instead of bud)
Thorn – something you need help with within the next week
*Bonus* – what can you do to turn your thorn into a rose for next week?
Give participants two minutes to write down or draw their rose, bud, and thorn. If you're planning on repeating the activity (as a daily check-in

, for example), encourage students to keep a journal.
When everyone has finished, start by sharing your own rose, bud, and thorn. Then invite others to share.
Educators can use RBT in the classroom as an independent exercise or part of a morning meeting. Families can also use this strategy at home as a way to check-in with each other after a busy day of work and school. Try sharing roses, buds, and thorns around the dinner table!
For more ideas, download Panorama's "Rose, Bud, Thorn" Journaling Guide.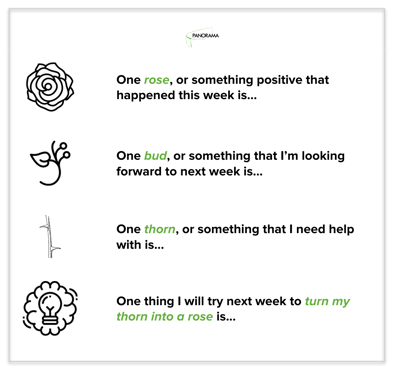 Self-awareness is a skill that continually develops as we learn more about ourselves, our abilities, and our values. Strengthening self-awareness early in life can help students succeed socially, emotionally, and academically.
Caring adults can help students build self-awareness through activities, strategies, and asking thoughtful questions. If you'd like a resource to help students reflect on their self-awareness, download the open-source Panorama Social-Emotional Learning Survey for students.

Explore More SEL Resources:
Support students' SEL skills with 6 Small-Group Facilitation Guides