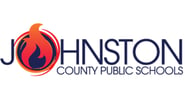 At Johnston County Public Schools (JCPS), we know that if we don't take care of the whole child, our students will not progress academically. Across our 46 schools in eastern North Carolina, teachers deeply understand the importance of serving students' social and emotional needs, and work to create an environment where students feel safe and supported.
Conversations about social-emotional learning (SEL) at JCPS began in 2017. Since then, we've made tremendous strides in building SEL into school climate and culture. Our Portrait of a Graduate reflects this focus—describing the attributes that we want each of our 37,000 students to embrace and exemplify from preschool and beyond.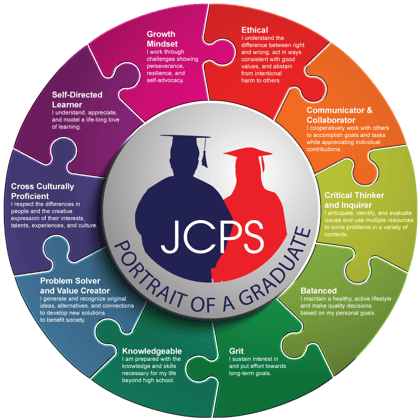 The characteristics include:
Growth Mindset
Ethical
Communicator and Collaborator
Critical Thinker and Inquirer
Balanced
Grit
Knowledgeable
Problem Solver and Value Creator
Cross Culturally Proficient
Self-Directed Learner
As the Executive Director of Social and Emotional Learning at JCPS, I work to implement SEL across the district through the lens of our Portrait of a Graduate and the five core CASEL competencies. My goal is to develop strong practices and supports that ensure our students are able to learn and thrive.
Panorama has been a key partner in helping us bring this SEL vision to life. With Panorama, we're able to measure and understand students' SEL skills aligned to our Portrait of a Graduate and the CASEL framework. Panorama also makes it possible for us to have critical, data-driven conversations about students' needs, then take action to deliver universal supports and tiered interventions.



Measuring Social-Emotional Learning and School Climate
One of the best parts of the Panorama Social-Emotional Learning Survey is its flexibility. As a district, we reviewed the 23 research-backed topics and questions on the survey, and mapped them back to the character traits that we want our students to integrate into their lives.
At the end of this process, we selected six topics to measure: Sense of Belonging, Self-Management, Social Awareness, Classroom Effort, Valuing of School, Learning Strategies. These were the scales that we believed would give us the best understanding of our students' SEL skills and perceptions of the school environment.
For topics that most closely relate to student safety and school climate, data is reported anonymously. With other topics, we dial down the results to the student level to understand how individual students are rating themselves. That way, we're able to pull out those students for targeted support at the Tier 2 and 3 levels.



Building a Strong Base of Universal Supports
At JCPS, we believe that the Tier 1 level is all about creating a positive school climate in which students feel safe and supported. Our universal supports vary by school site—and we're at different phases with different schools. We have done this because we want our schools to implement the programs that are embraced by their specific communities, rather than conforming to a one-size-fits-all solution.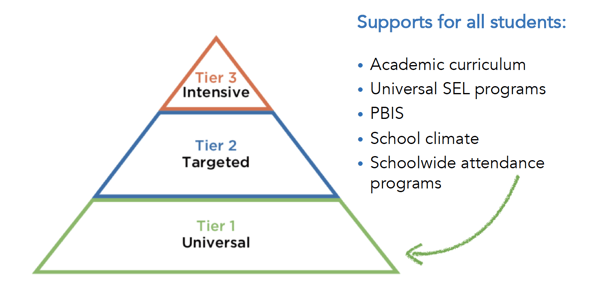 At JCPS, a Tier 1 support means that the entire student body experiences the components of a program.
There are several universal supports that our schools can explore. Here are just two examples:
Sanford Harmony Curriculum: A social-emotional learning program for Pre-K-6 students that promotes positive relationships through lessons and activities that encourage communication, collaboration, and mutual respect.
NC Resilience and Learning Project: Professional development and ongoing coaching to create trauma-sensitive schools and a school-wide culture shift around social-emotional learning.
At its core, our Tier 1 level focuses on building positive relationships between teachers and students—not just in pre-K through fifth grade, but also through middle and high school. That's how we get students coming back to school, doing their homework, and engaging in their learning.
How We Deliver Tier 2 and 3 Interventions
While we can typically serve 80 percent of students at the Tier 1 level, 20 percent of students may need more than that core level of support in social-emotional learning. To identify these students, we triangulate information across multiple areas including Panorama data, teacher and parent observation data, academics, attendance, and behavior.
We compile the data, look at who falls in that 20 percent, and then bring in that "human touch" to see if we missed any names and to have critical conversations about the data. (For example, was a student having a bad day when they reflected on their social and emotional skills?)
Panorama Student Success is one tool that enables us to have these types of conversations. With a student's coursework, attendance, behavior, and SEL data in one place, we can ask: What is this student telling us? What is the root cause of the student's struggles? Is this student's coursework declining because they are not coming to school? Or is it tied to their social-emotional capacity?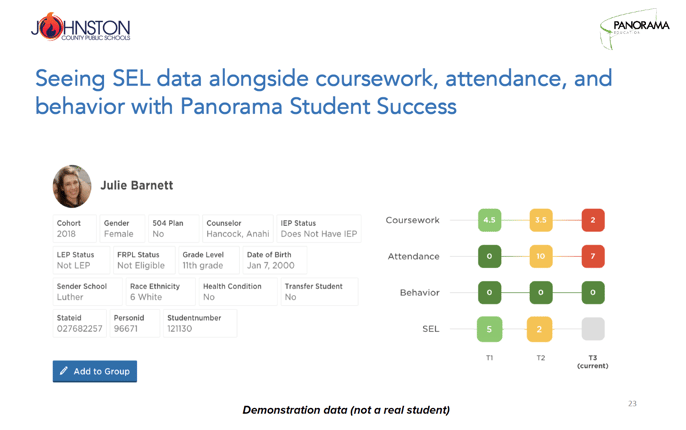 From there, we talk through targeted SEL interventions that may be appropriate for the student. Although a Tier 2 strategy at one school might be considered a Tier 1 support at another school—and vice versa—here are a few examples of Tier 2 strategies that our schools use:
Calm Down Spots
Conflict Resolution
Check In, Check Out (CICO)
Mentoring System
"Instead of just being able to see discipline and referral data, SEL data helps us be more proactive and see the skill gaps before students get into trouble."
Final Thoughts: SEL Starts With Adults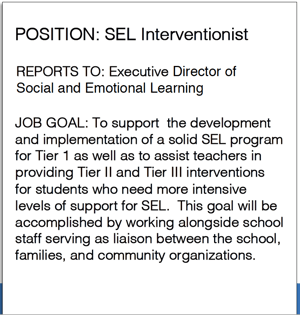 When implementing SEL district wide, it's essential to build human systems that protect time for SEL and make it a priority. At JCPS, we've created central office positions devoted to this work by leveraging Title IV funding. We recently hired two SEL Interventionists to increase our impact for students.
Download this SEL Job Descriptions Toolkit.
We also believe that SEL starts with adults. You can't pour from an empty cup; it's important to take care of yourself first before you can demonstrate SEL practices to others. When we rolled out professional development in 2017, we intentionally focused on adult SEL because we knew it was important for our educators to look within before they could implement these strategies in the classroom.
Most importantly, SEL is a "lift" for everyone in the building to take on. Although counselors are the experts on SEL, they're not the only adults capable of delivering interventions. Social-emotional learning is broad and can mean anything from helping students build relationships, to helping them better manage their time. Everyone can play a role in the process.
Dr. Amanda H. Allen is the Executive Director of Social and Emotional Learning at Johnston County Public Schools in North Carolina.
Interested in measuring your students' SEL skills? Download the open-source Panorama Social-Emotional Learning Survey.