Research shows that a positive school climate fostered by adults is the best way to improve student behavior.
But scalable approaches are hard to implement. Many teachers and staff struggle with burnout, exhaustion, and inadequate preparation to manage increased behavior incidents, so they fall back on reactive and punitive responses to behavior. Administrators lack a flexible system to manage behavior tracking and to build positive culture through universal supports—and students fall through the cracks.
To help your district meet these challenges, we're excited to announce Panorama for Positive Behavior: a powerful new suite of tools that builds educator capacity to improve student behavior and outcomes. With Panorama for Positive Behavior, your district can shift from reactive, punitive, student-focused approaches to proactive, positive, system-focused practices.
Request a demo of Panorama for Positive Behavior.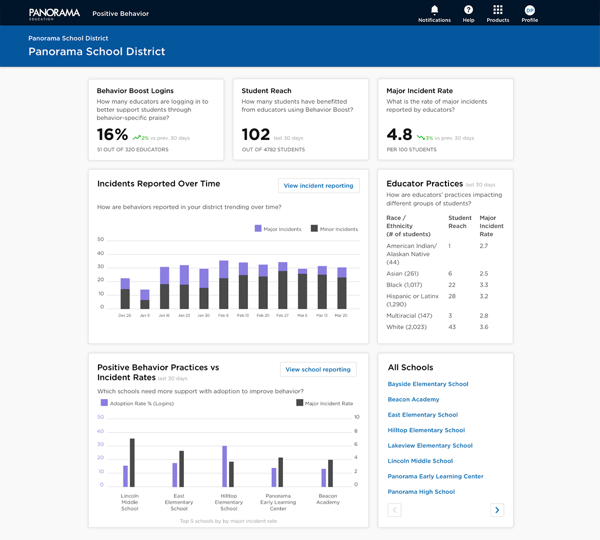 Pictured: Panorama for Positive Behavior district dashboard
Empower Educators to Build Positive Culture
Panorama for Positive Behavior bolsters a cycle of positive change by providing:
Behavior Boost: building adult capacity for universal supports
Behavior Logging: streamlined incident reporting
Behavior Analytics: powerful behavior dashboards
Teachers use Behavior Boost to support positive behavior in the classroom. Mobile-friendly Behavior Logging gathers the robust data needed for Behavior Analytics. Then Behavior Analytics provides leaders and administrators the analysis they need to guide system-wide behavior supports. Working together, the three components empower educators to cultivate positive learning environments where students thrive.

Behavior Boost, Behavior Logging, and Behavior Analytics all work together to provide comprehensive behavioral support.
Grow Teacher Skills With Behavior Boost
With Behavior Boost, educators grow their capacity to implement research-based Tier 1 universal practices such as behavior-specific praise. Much like a health tracker app that supports habit change through prompting and data visualization, think of this app as a customized coach for educators to build thriving, equitable schools for all students. Teachers can use the app to set goals for delivering behavior-specific praise, track their progress, and visualize its impact on student behavior.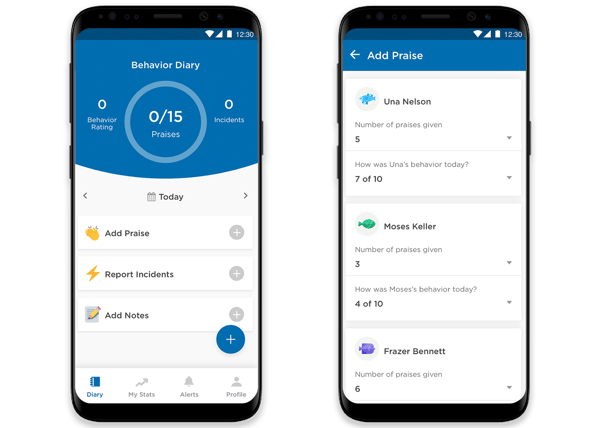 Pictured: Mobile-friendly Behavior Boost grows teacher capacity to implement Tier 1 supports.
Picture a new seventh grade math teacher who has just completed a teacher training program that included only one course in classroom management. His classroom feels out of control and the teacher often reacts by removing students from the classroom.
With Behavior Boost, this teacher can set goals to provide behavior-specific praise to students when they display positive behavior. Implementing behavior-specific praise has an observable impact on the classroom climate that's reflected in the behavior incident data. The students stay more engaged, and the teacher feels more satisfied during his first semester on the job.
Easily Track Behavior Incidents With Behavior Logging
With Behavior Logging, teachers can quickly and easily log both major and minor behavior incidents. Track all the important details such as incident type, students involved, location, date, and time. The mobile-friendly tool enables incident logging throughout the day wherever incidents happen. Nightly exports of major incidents are available for your SIS to meet district and state reporting requirements.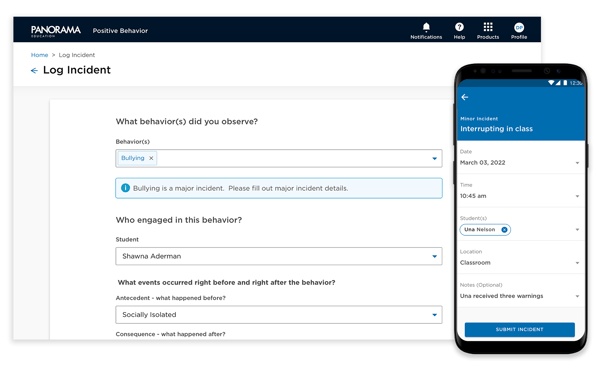 Pictured: Mobile-friendly incident data collection with Behavior Logging
As an example, consider a first grade teacher whose students get into a fight in the hall on the way to lunch. She responds to the incident in the moment, but doesn't have time to sit at her desk and fill out an incident report until the end of the day. If her school uses paper and pencil reporting, the information may never get entered digitally.
Using Panorama's mobile-friendly incident logging, she can use her phone to log an incident when it happens. That way, administrators will be notified in near real-time to set in motion the supports those children need, such as assigning counseling resources.
See the Big Picture With Behavior Analytics
With Behavior Analytics, administrators and district leaders get real-time behavior data dashboards. Configure reporting at the district level for consistent data collection across schools. Zoom out to see district trends or drill down to school, teacher, and student levels. The powerful, flexible dashboards provide the data needed to drive decisions around allocating resources and encouraging positive behavior supports.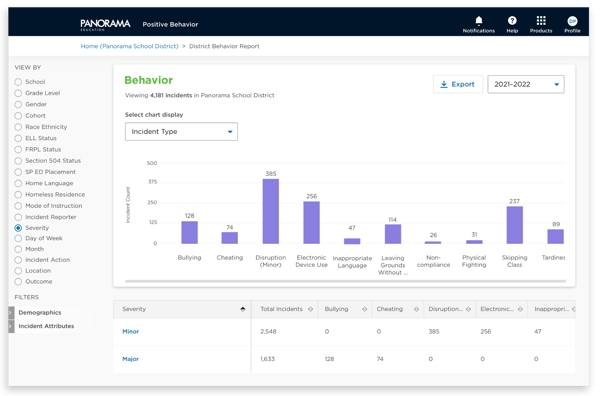 Pictured: School district behavior dashboard
As an example, consider an Assistant Superintendent of Student Services with a strategic goal around equity. Using a district dashboard, she can understand how educator discipline practices manifest across her school buildings. She filters by demographic categories such as gender, race/ethnicity, ELL, or free and reduced-price lunch status. This data helps her to make sound plans for systemic change by rerouting resources, such as behavior specialists or counselors, where they are needed most.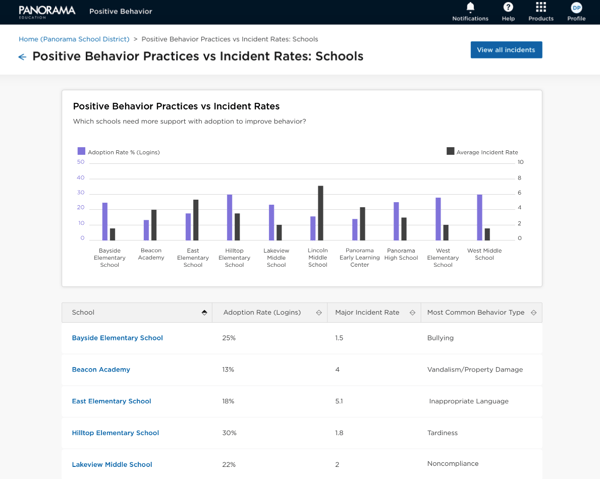 Pictured: Positive Behavior Practices vs. Incident Rates across schools in a district
A Director of School Climate and Student Behavior who works with building leaders to implement PBIS teams and practices can view a dashboard showing incidents by building. They are able to notice which schools or teams within schools are creating bright spots where incidents are decreasing and students are thriving. With that information, they can connect PBIS teams across buildings to learn from each other and replicate successful strategies.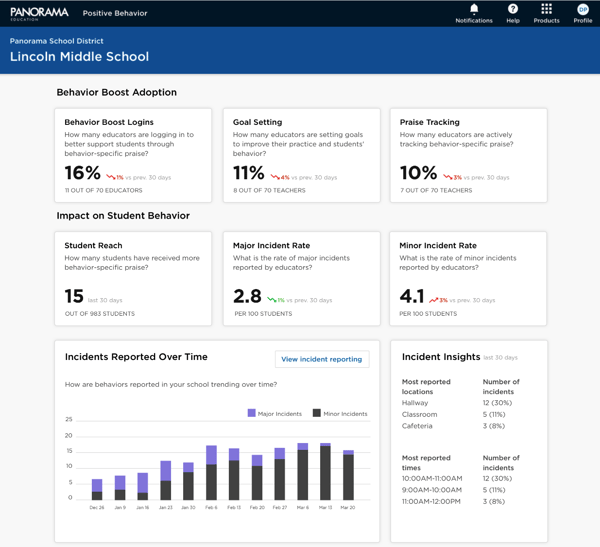 Pictured: Behavior Boost adoption dashboard for a single school building
A middle school Assistant Principal who responds to behavior incidents in her school can check the school dashboard each morning to quickly understand which specific students in her building may need Tier 2 or Tier 3 supports. She can also view behavior trends and teachers' behavior-specific praise implementation trends to understand which teachers need more coaching to effectively implement behavior-specific praise, thereby minimizing the need for supports beyond Tier 1.
See Panorama for Positive Behavior in Action
Say goodbye to cumbersome paper logging or double-entry incident reporting. Get ready to log and analyze behavior data in one unified system.
Build educator capacity to promote positive student behavior so students and teachers can spend less time reacting to unwanted behavior and more time focused on learning.
Learn more about Panorama for Positive Behavior or contact us for a demonstration.