Research shows that student behavior is intertwined with attendance and academic performance. When students have academic challenges, they are more likely to exhibit unwanted behaviors, and vice-versa. By incorporating behavior data into tiered frameworks, such as MTSS or PBIS, districts can better meet the needs of all students and promote positive behavior.
But scalable approaches are hard to implement. Many teachers and staff inadequate preparation to manage increased behavior incidents, and lack the tools and resources to collect, understand, and respond to behavior data. Administrators lack a unified system to manage behavior tracking and to build positive culture through universal supports—and students fall through the cracks.
To help your district meet these challenges, we're excited to announce Panorama for Positive Behavior: a powerful suite of logging and reporting tools that can boost the impact of your tiered supports with essential behavior data. Standardize data collection to get the information you need for state and district reporting requirements while getting the full picture of what's happening across your schools to improve student behavior and outcomes.
Request a demo of Panorama for Positive Behavior.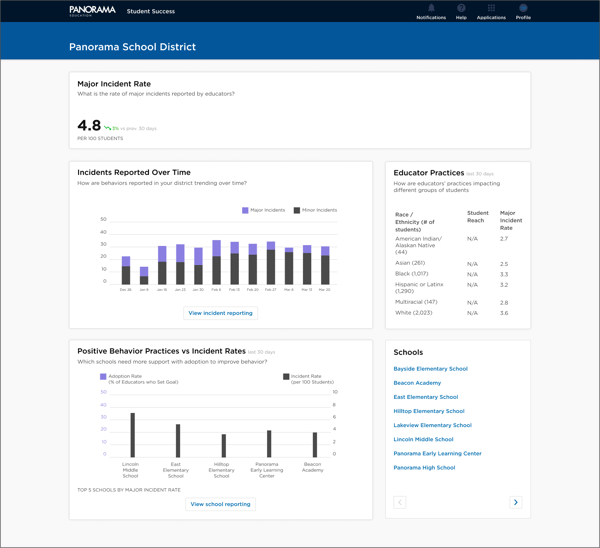 Pictured: Panorama for Positive Behavior district dashboard
Easily Track Behavior Incidents With Behavior Logging
With Behavior Logging, teachers can quickly and easily log both major and minor behavior incidents. Standardize behavior data collection across your district by configuring the logging fields to meet your specific requirements. Track all the important details such as incident type, students involved, location, date, and time. Nightly exports of major incidents are available for your SIS to meet district and state reporting requirements.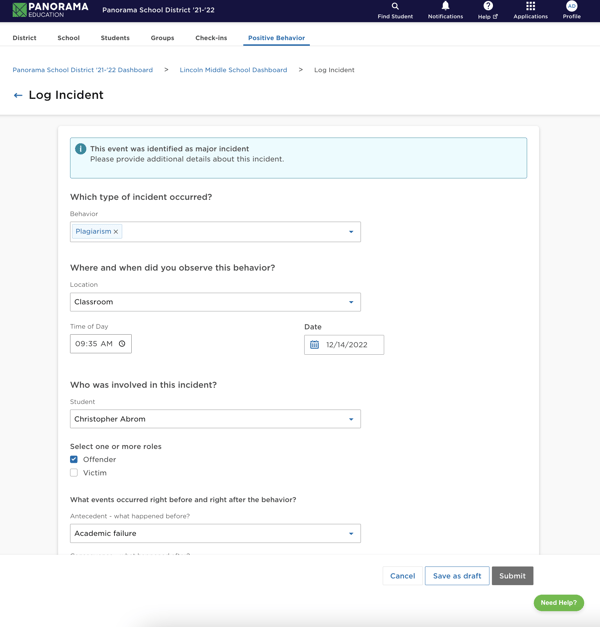 Pictured: Incident data collection with Behavior Logging
See the Big Picture With Behavior Analytics
With Behavior Analytics, administrators and district leaders get real-time behavior data dashboards. Configure reporting at the district level for consistent data collection across schools. Zoom out to see district trends or drill down to school, teacher, and student levels. The powerful, flexible dashboards provide the data needed to drive decisions around allocating resources and identifying students who may need additional supports.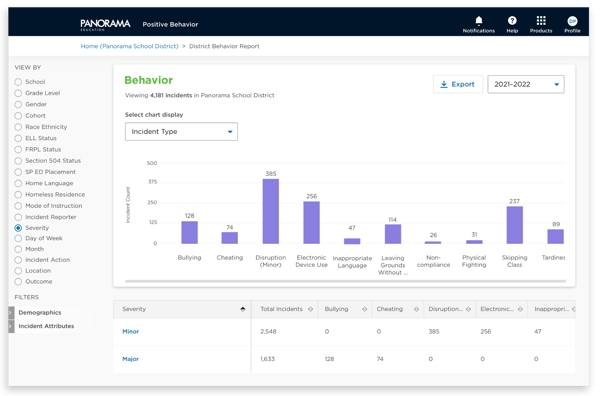 Pictured: School district behavior dashboard
As an example, consider an Assistant Superintendent of Student Services with a strategic goal around equity. Using a district dashboard, she can understand how educator discipline practices manifest across her school buildings. She filters by demographic categories such as gender, race/ethnicity, ELL, or free and reduced-price lunch status. This data helps her to make sound plans for systemic change by rerouting resources, such as behavior specialists or counselors, where they are needed most.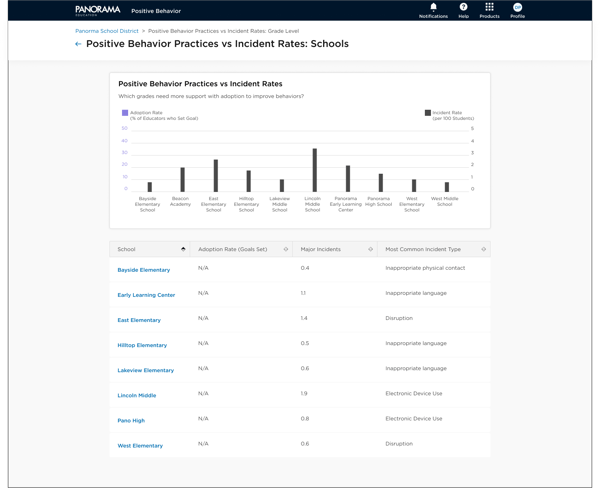 Pictured: Incident rates across schools in a district
A Director of School Climate and Student Behavior who works with building leaders to implement PBIS teams and practices can view a dashboard showing incidents by building. They are able to notice which schools or teams within schools are creating bright spots where incidents are decreasing and students are thriving. With that information, they can connect PBIS teams across buildings to learn from each other and replicate successful strategies.
See Panorama for Positive Behavior in Action
Say goodbye to cumbersome paper logging or double-entry incident reporting. Get ready to log and analyze behavior data in one unified system.
Gain insightful behavior data to promote positive student behavior so students and teachers can spend less time reacting to unwanted behavior and more time focused on learning.
Learn more about Panorama for Positive Behavior