For years, college and career readiness (CCR) has been a mainstay in state accountability systems. The specific requirements vary across states, but today more than 40 states have clear college and career ready benchmarks for students across Common Core State Standards (CCSS), credit accumulation, standardized test scores, attendance, technical education, and career pathways.
As the economy and our world changes, states continue to set high expectations for student success by raising the bar for CCR standards. According to the U.S. Department of Education:
"One of the most powerful strategic levers of improvement is to ensure that every student is held to high academic standards. In an environment of high-quality standards, teachers can focus on the higher-order skills that students need to think critically, solve real-world problems, and be successful in the 21st century and beyond."
Download Checklist: 7 Ways to Promote College and Career Readiness


National Trends in College and Career Readiness
With the addition of new college and career ready standards, however, it's becoming harder than ever for districts to meet these new standards while truly preparing students for higher education and the workplace. National trends show that many students graduate high school unprepared for the rigors of postsecondary education:
The college persistence rate, or the percentage of students who return to college for their second year, was 74 percent in 2018.
Overall, students remain below benchmark in academic standards; the National Assessment of Education Progress (NAEP) recently reported that scores in math and reading have been flat or declining over the last 10 years.
There are gaps in achievement, college enrollment, and college persistence for underrepresented student groups.
About a third of American students need remedial education when they enter college, and college attainment rates are not keeping pace with projected workforce needs.
In Panorama's national survey of over 280 district leaders, 21st century skills and social-emotional learning (SEL) emerged as the number one focus area for districts looking to improve students' college and career readiness. Next on the list were Career and Technical Education (CTE) pathway completion, attendance, and credit accumulation.
It's clear that academic content standards are not the only area of concern for educators. Today, social-emotional learning is a critical component of what it means for students to be college and career ready.
Which aspects of students' college and career readiness are you most focused on improving?*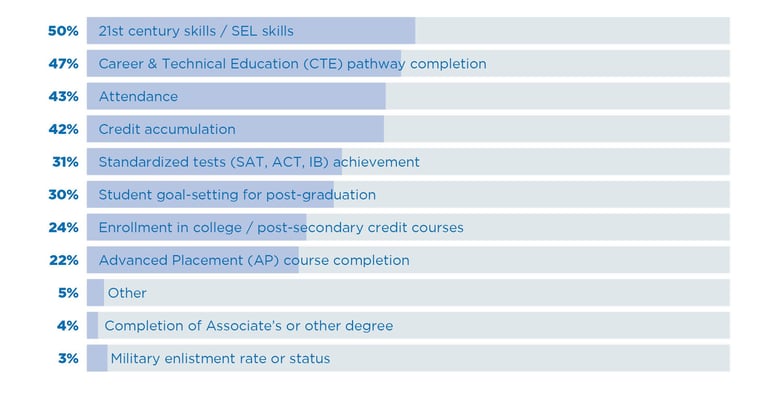 *Respondents selected their top three answers.
7 Essential Practices to Meet College and Career Readiness Standards
If you've made it this far, college and career readiness is likely a priority for your district. Now it's time to take a look at how your organizational practices are driving towards this outcome.
Does your district have the right systems and structures in place to truly prepare students for college, career, and life?
At Panorama Education, we have the opportunity to work with education leaders across the country on college and career readiness. We created this list of seven essential practices based on insights from our partner school districts.
Download these seven best practices as a PDF checklist.

1. Align Your District Around Clear Goals and KPIs for CCR
System-wide change will be hard to achieve unless school sites are aligned on your vision and goals for CCR. Make sure that district goals and school improvement plans are in sync.
For example, if your district has a KPI to increase the four-year graduation rate, it's important for school-based efforts to align with this goal.
2. Regularly Track Progress Towards CCR Goals
Be sure that your central office is monitoring key metrics related to college and career readiness on a weekly or monthly basis.
Reporting on CCR benchmarks only at the end of the year can make it difficult to know what is and isn't working. Frequent progress monitoring will help you be more agile with program implementation and resource allocation.
3. Use a Data System that Aggregates CCR Indicators
Look for a data system that builds a useful narrative of students' college, career, and life readiness. Better yet, search for one that brings together real-time CCR indicators at the district, school, and student levels.
The most effective data systems can integrate academic data across content areas (e.g., coursework, assessments, AP scores) with non-academic data (e.g., behavior, attendance, critical thinking and life skills, social-emotional learning).
4. Provide Schools with Easy Access to CCR Indicators
In most school districts, data is siloed—which means that action can be slow and siloed.
Assess whether your principals, teachers, and staff have easy, uniform access to CCR indicators. At a glance, they should be able to see how students are doing against requirements. It's not enough to have this data at the district level; true change happens on your campuses.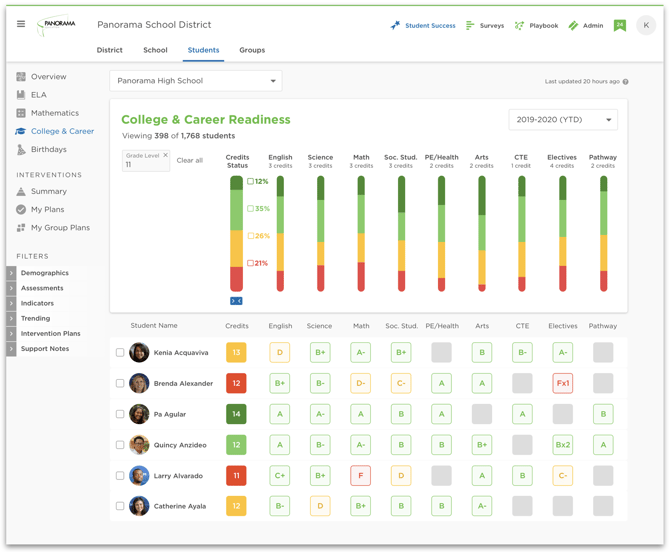 5. Make It Easy for Schools to Identify Off-Track Students
The ability to see CCR data is just the first step. Is the data actionable for school teams? Can they quickly apply filters to identify 9th graders who are at risk? What about student populations who are reading below grade level in English/English Language Arts (ELA)?
Schools need tools to proactively identify students and student groups who are off track. This will increase the chance that students get the support they need, when they need it
6. Ensure Schools Have a 360° View of Students—Including Life Skills
When a student is identified as off track for CCR, can school teams triangulate data across multiple domains to understand the root causes of the struggle?
Arriving at a solution often requires seeing the student's full "data story" across coursework, assessments, behavior, attendance, life skills, and SEL. This can paint a picture of why the student is struggling and where to target interventions to help the student thrive.
7. Empower Schools With Intervention Management Tools
In Panorama's national survey, only 29 percent of education leaders said that their district is effective in taking action when students are off track for college, career, and life readiness.
Consider investing in an MTSS software platform or intervention management tools that make it faster and easier to deliver student supports. Ideally, educators should be able to build, monitor, and collaborate on intervention plans in one system, without the need for paper forms or spreadsheets.


Want to check off everything on this list? Learn how Panorama helps school districts promote college and career readiness with easy-to-use tools for educators.