On July 29th, 2021, Panorama will hold its second virtual summit, "A Resilient Reopening." This free, all-day event will bring educators together from across the country to learn from and support each other as we chart a path forward. We'll hear from leading experts and practitioners on how to build education spaces rooted in:
Register now for Panorama's free Virtual Summit: A Resilient Reopening
Empowering Speakers and Tangible Strategies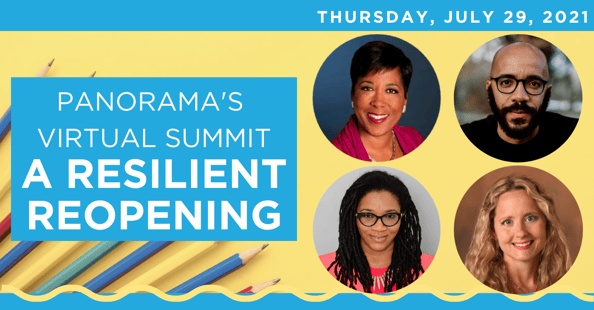 You'll walk away with tangible strategies and resources to bring back to your school communities and have the opportunity to hear from powerful speakers and leaders in the education space, including:
Dr. Mary Crnobori: Coordinator for Trauma-Informed Schools in Nashville, TN, Dr. Crnobori works to equip educators with strategies that empower students and foster resilience.
Kamilah Drummond-Forrester: Social-Emotional Learning Consultant and Racial and Social Justice Facilitator with the National SEED Project, Drummond-Forrester helps educators have courageous conversations to drive social change.
A Joyful, Restorative Community Experience
Virtual events offer an opportunity to cultivate community efficacy. Community Learning Events Lead at Panorama and virtual summit speaker Becky Barstein says for her, community efficacy is defined by confidence, capacity-building, and connection. "We're stronger together. We want adults to come into this space and be validated and empowered," says Barstein.
The summit aims to provide a joyful and restorative place for educators to acknowledge, validate, and support one another after an incredibly challenging year, and feel ready to take action when we return to our communities.
Last year was a year of growth for many educators, requiring us to learn and master new skills and technologies quickly. In coming together as a community, we can:
Learn from others in the field
Disseminate best practices
Elevate successes from the 2020-2021 school year
Consider strategies that worked well last year and that we can use moving forward


Planning for a Resilient Reopening
No one knows what the future holds. We can't predict what 2021-2022 will look like in our schools, but we can prepare by pouring our energy into the constants that will always matter: relationships and support networks. We can build toolkits, work on our systems, and foster connections with students, families, and fellow educators. We're looking forward to engaging in this work together at "A Resilient Reopening," and hope that you will join us!
Register now for Panorama's free Virtual Summit: A Resilient Reopening!