At Tippecanoe Valley High School (TVHS) in northeast Indiana, social-emotional learning (SEL) is a core part of every student's education.
TVHS is a traditional high school serving 550 students with an array of interests and skills, from athletics, to choir, to Future Farmers of America (FFA). Almost 60 percent of students qualify for free-and-reduced-price lunch, and about 20 percent receive special education services.
To help each and every student at TVHS succeed, school leaders, teachers, and staff have gone "all in" on SEL—and the results speak for themselves.
Tippecanoe Valley High School has seen strong, positive associations between students' SEL skills and assessment scores. The school was also one of few to receive an "A" letter grade from both the Indiana Department of Education and U.S. Department of Education for 2017-2018.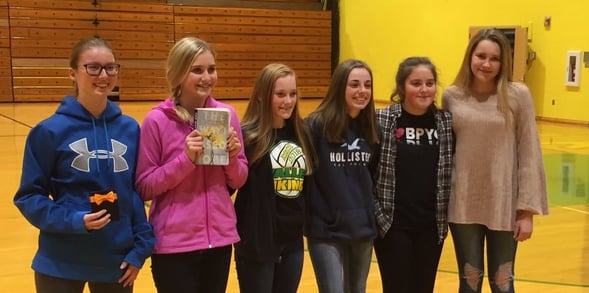 Students at TVHS participate in "Literacy Day."
Chad Cripe, principal of TVHS, recently joined us on a webinar to share how they've woven social-emotional learning into every student's experience at school.
Here are the four ways Tippecanoe Valley High School uses SEL to help students learn and grow.
Download this research brief to learn how SEL connects to student outcomes across academics, behavior, and attendance.
1. Revising grading policies to promote students' self-efficacy
At TVHS, the entire school community is bought into the power of self-efficacy—or how much students believe in themselves. Given the emphasis on this social-emotional skill, teachers and staff began to reflect on the school's grading policies, asking the question: Do we need to enter grades if it's going to crush a student's belief in himself or herself?
"We've emphasized the idea that every grade you put into the grade book is either building or destroying the sense of self-efficacy in a student," said Principal Cripe. "We often talk about the power of the word 'yet.' Instead of putting an 'F' or a zero on the paper, we speak to the kids about not being there 'yet' and ask what can we do to help them get there."
This strategy has kept students motivated and excited about learning, rather than leaving students dejected about seeing red ink on an exam.
"We often talk about the power of the word 'yet.' Instead of putting an 'F' or a zero on the paper, we speak to the kids about not being there 'yet' and ask what we can do to help them get there. We want to ensure our grade books are helping to build, not destroy, students' self-efficacy and learning."

– Chad Cripe, Principal, Tippecanoe Valley High School (Ind.)
2. Embedding SEL into Response to Intervention (RTI) strategies at the secondary level
When done well, RTI ensures that—instead of "waiting for students to fail"—educators are quickly identifying students who need help and providing proactive supports. Here's how the RTI process at Tippecanoe Valley High School works:
Educators review students' formative assessments and other data, including SEL data, to understand who needs help in math and English.
Every day during homeroom period (known as "Viking Success time"), students who need RTI support in math or English break out into small groups for Tier 2 instruction.
A teacher uses data-driven instruction and evidence-based practices to run RTI lessons with these students.
Teachers and staff participate in professional learning communities (PLCs) to plan supports, understand what's working, and share ideas.
"One of my favorite stories to tell is that when we first started RTI, some kids weren't fond of it," said Principal Cripe. "But we just had a re-take for math and English assessments, and now we have juniors and seniors asking for RTI. They're starting to see the benefits and how it's helping them; it's not a penalty, and there's no stigma attached."
3. Using SEL surveys and a Character Day to emphasize students' strengths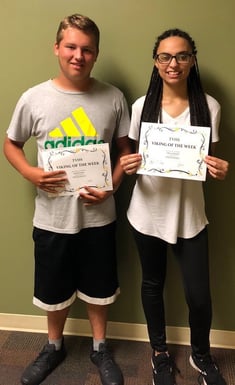 This year, TVHS started a Character Day to help students understand and celebrate their own social-emotional and character strengths.
The day kicked off with students watching a video from the organization Let it Ripple —introducing students to a shared vocabulary around words like "grit" and "integrity." Then, students took a short survey that surfaced their top character traits and areas for improvement.
Throughout the day, students engaged in conversations about their beliefs and strengths, asking questions like "how do you build self-efficacy?" and "what does it mean to have strong self-management?" By creating a safe and positive space for these discussions, Character Day encouraged students to think critically about social-emotional learning and the role it plays in their lives inside and outside of the classroom.
Explore eight social-emotional learning activities for high school.
4. Bringing students' SEL reports into parent-teacher conferences
TVHS also brings parents into the conversation about students' SEL strengths and opportunities for growth. At parent-teacher conferences, parents get to see SEL reports on how students rated themselves in skills like grit, self-management, and self-efficacy. Teachers also set aside time to discuss SEL results during case conferences for students with Individualized Education Plans (IEPs). These strategies have increased parents' awareness that TVHS is committed to the social-emotional wellbeing of students.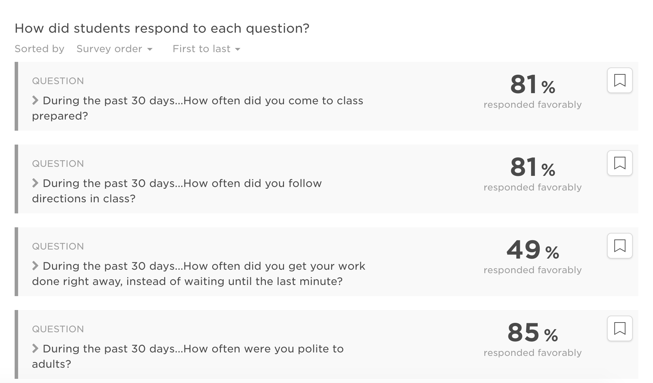 An SEL report showing how TVHS students rated their self-management skills on the Panorama SEL Survey.
---
With students, parents, and teachers and staff highly engaged in social-emotional learning, TVHS plans to continue expanding this work in the years to come.
"When you look at our growth on state testing, combined with what we're doing around SEL, it shows that our students are learning and growing," said Principal Cripe.
Watch the webinar to learn more about connections between SEL and academic growth from the Panorama research team and Principal Cripe.