A positive Classroom Environment -- the overall feel of a classroom -- including the physical, social, and psychological environment, creates the conditions necessary for learning and student growth. A positive classroom environment should lead to higher student achievement and lower incidence of classroom disruption and disciplinary issues. In this Playbook Spotlight, we look at "Explain Why Classroom Rules Exist," a Classroom Environment strategy shared by Samantha Santos Thomas, a kindergarten teacher in San Jose, California, on Playbook.
Playbook is the new professional learning community from Panorama, built for teachers, by teachers. On Playbook, classroom strategies and ideas for bite-sized improvements are called moves. Every move featured on Playbook is contributed by classroom teachers like Ms. Thomas.
Teachers can use Playbook to find moves after they have collected feedback from their students and are looking for ways to act on that feedback. Ms. Thomas began contributing to Playbook in response to the volume of data she received without clear next steps. She shared that she receives "mounds of data" and "stacks of observational notes," but still looked for actionable strategies to use in her classroom. As a successful classroom teacher, Ms. Thomas wanted to give other teachers insights into classroom practices that work for her.
One of the classroom moves Ms. Thomas shared is "Explain Why Classroom Rules Exist." It's a strategy for collaborating with students to establish classroom expectations and to help students want to follow class rules. Concretely, this move presents an approach to establishing classroom rules and discussing why they should be followed. Many teachers know that they struggle with how to get student buy-in about classroom rules: this move helps teachers work on that issue with their students in a clear and actionable way.
"Explaining why we have classroom rules, and allowing students to voice their opinions on those rules, helps make sure students follow the rules because they see them as important and fair."

– Sam Santos Thomas, Teacher
Each move on Playbook walks teachers through the action they can take in their classroom and a statement from the contributor about why it works for them. "Explain Why Classroom Rules Exist" describes how to have a conversation with students about why rules matter in the world outside the classroom and how to transition to a conversation about why rules are equally important inside the classroom. Students are encouraged to think through the "Why?" of classroom rules in various situations so that they understand more fully why they are being asked to do something. Older students are given an opportunity to ask questions and negotiate with the teacher about the rules themselves if they have a compelling reason as to why they feel a rule should be different. The end result is a class of students who are much more likely to follow the rules, make good choices, and feel empowered to help shape their classroom experience.
By asking teachers for some information about their teaching background, such as grade level and number of years in the classroom, Playbook matches educators with moves that are right for their classroom context. When Ms. Thomas submitted this move, she recommended modifications for teachers of older students. As a kindergarten teacher, most of the moves Ms. Thomas submitted to Playbook will be recommended to teachers working with younger grades.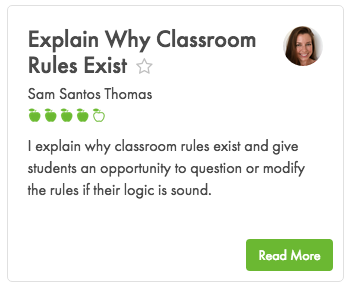 We are extremely excited to share Playbook and the expertise of many extraordinary teachers like Ms. Thomas with you and your educators. We look forward to hearing about your experiences with Playbook as this community of practice continues to develop in the months and years to come.