Each year, hundreds of educators use resources and online lessons from EduMotion to energize their classrooms and equip children with the creativity, curiosity, and social-emotional skills they need to succeed in school and thrive in life. By weaving together themes such as diversity, empathy, and kindness within virtual explorations of dances from around the world, EduMotion's transformative programs bring movement, cultural learning and SEL directly into K-12 classrooms worldwide.
Now, practitioners can explore a collection of digital social-emotional learning lessons from EduMotion's SEL Journeys Program on Playbook, Panorama Education's online professional learning library that equips practitioners and school leaders with strategies for creating a positive school climate and implementing SEL in K-12 classrooms.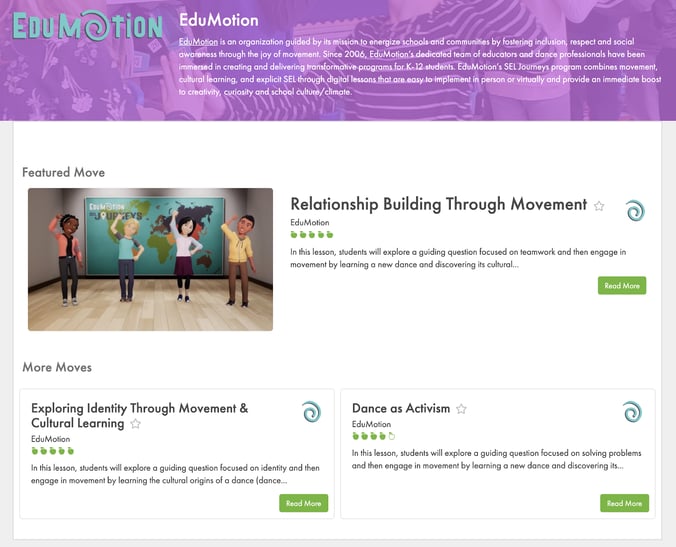 EduMotion is an organization guided by its mission to energize schools and communities by fostering inclusions, respect, and social awareness through the joy of movement. Since their founding in 2006, EduMotion's dedicated team of educators and dance professionals have been immersed in creating and delivering transformative programs for K-12 students.
EduMotion's SEL Journeys Program combines movement, cultural learning, and explicit SEL through digital lessons that are easy to implement in-person or virtually.
The lessons from EduMotion on Playbook align directly with topics from the Panorama Social-Emotional Learning Survey, including:
Emotion Regulation
Self-Efficacy
Engagement
School and Classroom Climate
Sense of Belonging
Social Awareness
Teacher-Student Relationships
Social Perspective-Taking
Download the Panorama Social-Emotional Learning Survey.
For example, the lesson Relationship Building Through Movement gives students the opportunity to discuss the topic of teamwork and engage in movement by learning a new dance and discovering its cultural origins.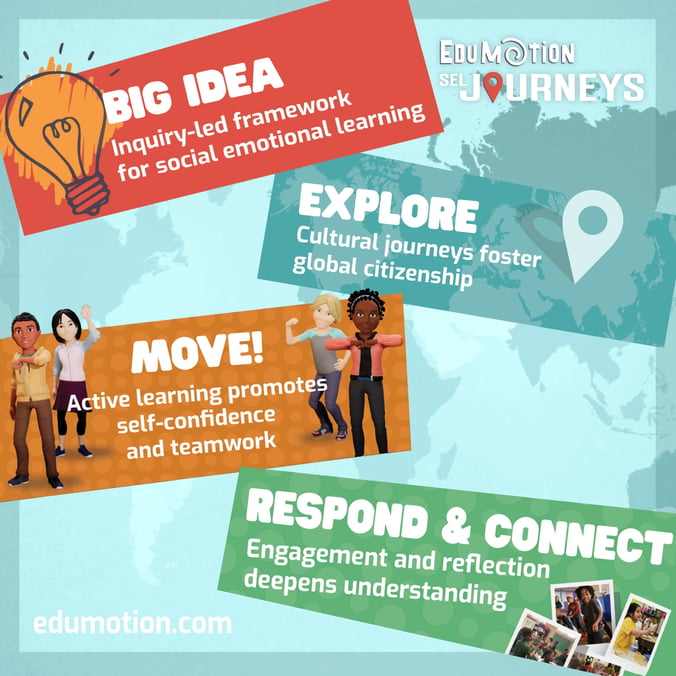 For educators looking for resources to help students discuss real-world problems that they would like to solve, Dance as Activism allows students to explore dance as a form of communication. Students are guided through prompts that ask them to reflect on ways to express problems (and solutions to those problems) through a physical movement, pose, or gesture.
Panorama's Playbook connects teachers, counselors, and school leaders with easy-to-implement resources, activities, and research related to emotion regulation, sense of belonging, teacher-student relationships, adult SEL, and more. Teachers explore Panorama's Playbook when they are looking to take action on their Panorama student survey data on school climate and social-emotional learning.
As schools and districts across the country continue to support students' social, emotional, cultural and cognitive competencies, we are thrilled to share innovative strategies from expert organizations such as EduMotion! Find them at @EduMotionSEL on Twitter and share how you're implementing these activities in your school or classroom with us @PanoramaEd!