Each year, hundreds of educators work with Camp Kindness Counts to empower students and adults to embrace their authentic selves through character development and mindfulness, encourage them to positively impact their communities through kindness, and inspire them to shape an empathetic world as courageous and compassionate global citizens.
Now, practitioners can explore a set of research-backed, standards-aligned social-emotional learning lessons from Camp Kindness Counts on Playbook, Panorama Education's online professional learning library that equips practitioners and school leaders with strategies for creating a positive school climate and implementing SEL in K-12 classrooms. These new resources from Camp Kindness Counts provide educators with a framework through which to help students embrace kindness and authenticity in order to build better communities.
Camp Kindness Counts is a nonprofit organization that provides tools for character development that help foster SEL and well-being, as well as opportunities for service and social action to help build a generation of compassionate and kind leaders and community members. Camp Kindness Counts has partnered with the Greater Good Science Center at UC Berkeley in developing research-based resources that support families and educators in nurturing pro-social skills in children of all ages. In addition to summer camps, after-school enrichment programs, and virtual events, Camp Kindness Counts has also created the Kind World Explorers initiative, which includes guide and activity books for caregivers.
The activities from Camp Kindness Counts on Playbook align directly with topics from the Panorama Social-Emotional Learning Survey, including:
Sense of Belonging
Social Awareness
School and Classroom Climate
Teacher-Student Relationships
Growth Mindset
Supportive Relationships
Cultural Awareness and Action
Positive & Challenging Feelings
Download Now: the Panorama Family-School Relationships Survey
For example, the activity "Appreciating Diversity" invites students to recognize and learn how to build relationships and appreciate diversity by reflecting on similar and different interests within a group. The activity helps students practice awareness as a means to help and express kindness towards others. There are also extension options for engaging families as co-creators.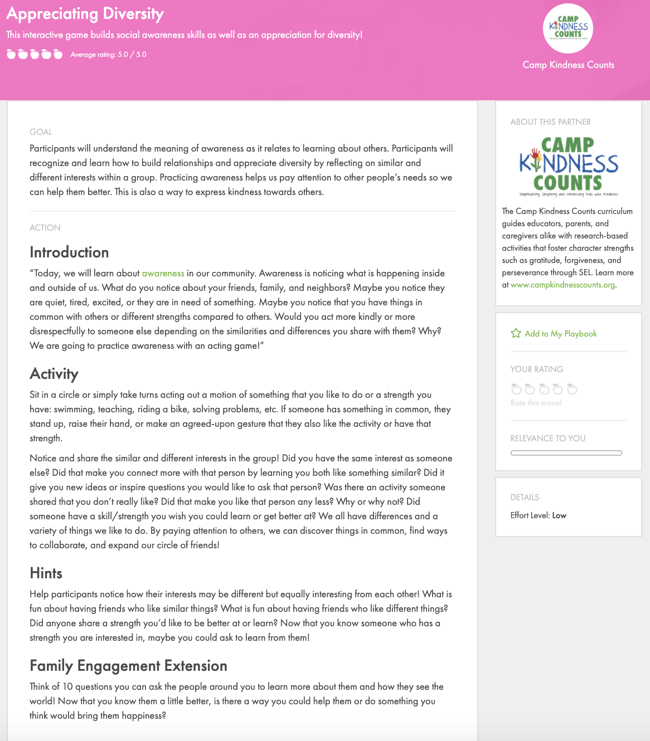 Panorama's Playbook connects teachers, counselors, and school leaders with easy-to-implement resources, activities, and research related to empathy, sense of belonging, teacher-student relationships, adult SEL, family engagement, and more. Teachers explore Panorama's Playbook when they are looking to take action on their Panorama student survey data on school climate and social-emotional learning.
As schools and districts across the country continue to support students' social, emotional, cultural and cognitive competencies, we are thrilled to share innovative strategies from expert organizations such as Camp Kindness Counts. Find them at @CampKindness on Twitter and share how you're implementing these activities in your school or classroom with us @PanoramaEd!