Leading social-emotional learning (SEL) is difficult work. At the same time, social-emotional learning is more important now than ever. Districts that build a strong foundation for SEL now will set up their students to thrive in today's changing educational landscape.
As Dr. John Marschhausen, superintendent of Ohio's Hilliard City Schools, said on a recent webinar:
"As we focus on the addition of social-emotional learning to our everyday life, we need to realize that it is not an 'and' that will come at the expense of our academic work. It's an 'and' that allows us to build on our academic work."
In this post, we compiled the six most effective "change management" strategies for leading SEL — as told by superintendents and senior district leaders who have led this work in their own districts.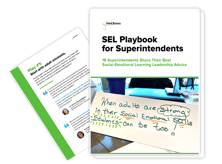 Download our SEL Playbook for Superintendents to unlock more advice on leading social-emotional learning


6 Leadership Best Practices for Social-Emotional Learning



1.
SEL starts with adult mindsets.

Great leaders know that social-emotional learning starts with adults. The way that administrators, teachers, and staff show up at school can have a profound impact on students' academic, social, and emotional development. [Tweet This]



Dr. Sabrina Claude McGahee, Superintendent of Schools, Old Redford Academy School District (MI)
"In our journey to meet the social-emotional learning needs of students, we learned that social-emotional learning begins with the adults. Once we prioritized developing SEL capacity in adults, we found that students, teachers, families, and the overall school culture benefitted. I wish we would have prioritized adult SEL sooner. We cannot expect students to manage their emotions and build effective relationships if the adults around them are unable to model this process."

Download this Adult SEL Toolkit for actionable district resources and worksheets.



2.
Embed SEL into your vision, mission, and strategic plan.

The social curriculum is just as important as the academic curriculum. Build a comprehensive and systemic approach to SEL that aligns resources and learning around the whole child. [Tweet This]



Sheldon Berman, Ed.D, Superintendent, Andover Public Schools (MA)
"From a superintendent's perspective, I like to ask, 'Have we embedded SEL into our vision and policy?' At Andover, SEL skills are very much part of our mission statement. Here are the four core SEL practices embedded into our plan:
1. Teaching Empathy and Social Skills: By directly teaching SEL through programs like Open Circle and Second Step, we help children become sensitive observers of the feelings of others, take the perspective of others, and resolve conflict positively.
2. Community Building: The culture in the classroom needs to create a caring sense of belonging for students. We hold Responsive Classroom morning meetings, open circles, buddy programs, and mentorship programs to build community.
3. Curriculum Integration: SEL must be echoed in our teaching. We engage in collaborative pedagogy in every subject area, integrate SEL into content areas such as literacy and social studies, and provide high school courses that deepen this work.
4. Service Learning: This enables students to take the skills they've learned and apply them to the world at large through intergenerational, educational, environmental, humanitarian, or political work."
3.
Build SEL into curriculum and instruction.

Social-emotional learning doesn't happen on its own. Your district should take an intentional approach to SEL — whether it is taught explicitly or integrated into existing curricula. [Tweet This]



Dina Rocheleau, Assistant Superintendent, Ferndale Schools (MI)
"As a district, it's important that you build an SEL-explicit instructional plan that builds coherence from class to class, grade to grade, and school to school. This will support students' executive functioning skills over time. You need an intentional, integrated approach that embeds essential components aligned to child and brain development.
At Ferndale, we use the work of incredible researchers to design our elementary modules and support our secondary classes. The elementary 'learning plan' modules teach our students about the brain states, growth mindset, executive function skills, and mindfulness. The learning plans lead to building a sense of ownership, trust, and strong relationships.
At the secondary level, we added a 'seventh-hour' class for students called Impact Hour/CPC (College Prep Course). This time is dedicated to conversations essential to building trust, mutual respect, and a connection to school and life. Throughout the year, students have the same Impact Hour/ CPC teacher. We also have student representatives on our secondary SEL committees, which has added student voices to the development of our activities."
4.
Invest in ongoing professional development.

SEL is not a "one and done" initiative. It takes continued education and training over time. Ongoing professional development will increase staff buy-in and help you find SEL champions in your buildings. [Tweet This]



Dr. John Marschhausen, Superintendent, Hilliard City Schools (OH)
"As leaders, we need to provide the time, the training, and the background for our teachers to be able to accept and embrace the shift to social-emotional learning.
For some of our teachers, this is something new. It is not what the training looked like in teacher education schools. As we work with our staff to show them the great impact we can have by focusing on social-emotional learning skills and the whole child, it allows us to get them to move.
In public education, we have a lot of room for growth to move away from a standardization approach that's remnant of A Nation at Risk, to a time where we meet kids where they are and we personalize education."


5.
Collaborate and connect with other leaders.

No matter where you are in your social-emotional learning journey, seek out opportunities to learn from other leaders and educators embarking on this critical work. [Tweet This]



Angie Adrean, Chief Academic Officer, Worthington Schools (OH)
"One of the best things for me was to be able to collaborate with other central Ohio school districts. Upon building a working relationship with Panorama Education, I quickly started talking with other central Ohio districts, and thankfully, many jumped on board with the same Panorama SEL Survey.
After a year of administering the survey and reviewing our data, we pulled together 50 like-minded educational leaders from across the state and hosted a day of professional learning at our Worthington Education Center. I collaborated with Panorama leaders to make this happen, and we were able to learn so much from one another and build relationships to forge continued brainstorming and idea-sharing with one another. This is difficult, yet really important work, and we must be in it together."


6.
Model caring for yourself.

You can't pour from an empty cup. Consider how you are attending to your own social and emotional well-being and mindfulness as a leader. [Tweet This]


Brenton White, Superintendent, A+ Charter Schools (TX)
"The main strategy that I use is to make sure that I am taking care of myself emotionally. I need to be strong and lead my staff in a calm and assuring way. I also have to acknowledge that my staff may not be as calm and emotionally stable as their leaders, and I must respond to them accordingly."
Download our SEL Playbook for Superintendents to access more expert advice on leading social-emotional learning.