Research-backed surveys grounded in survey science best practices
Panorama researchers developed our surveys through a rigorous process that prioritizes validity from the start.

Our student surveys offer a research-backed means to inform the work of educators, policy makers, and researchers.

Download Panorama's Reliability and Validity reports: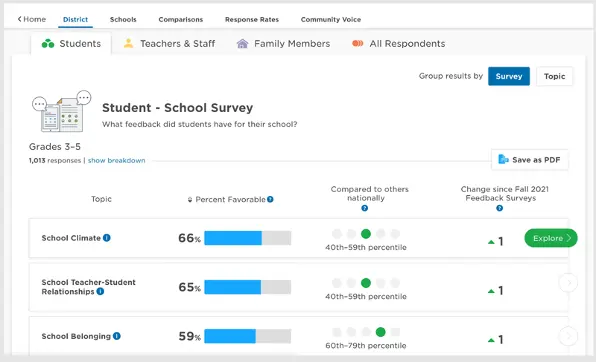 Our data scientists and researchers ground Panorama's products in education data and social science
The team leverages equity-first data science to help educators move from measurement to action. They apply their subject matter expertise to envision and improve Panorama tools.
Explore Selected Resources From Our Researchers
Blogs, Guides, & Op-Eds
The Impact of Covid-19 Pandemic on Student Success
(Moulton, 2023)
The Impact of Social-Emotional Learning on Academic Achievement
(Mahoney, 2023)
How To Measure Student Well-Being
(Moulton, 2021)
Research Brief: SEL & the ABCs of Student Success
(Moulton, Chiatovich, & Gehlbach, 2018)
On-Demand Webinars
Improving Your MTSS with an Effective Check-In/Check-Out Process
(Schaper, 2023)
Catalyzing a Culture of Feedback Using Student Success
(Kowalski, 2023)
Using Behavior Incident Reports to Teach Behavior
(Schaper, 2023)
Level Up Your SEL: Integrating Social and Emotional Learning in a Whole Child MTSS Framework
(Schaper, Kowalski, & Mahoney, 2023)