While the field of social and emotional learning (SEL) first emerged twenty-six years ago, the landscape of SEL (and, more broadly, K-12 education) has evolved significantly since then.
Decades of research illustrate the many benefits of promoting social and emotional learning in school settings. Numerous studies have shown that investments in SEL leads to improved classroom behavior, better stress management, and gains in academic achievement for students. Long-term, systemic SEL efforts lead to increased high school graduation rates, college and career readiness, improved mental health, healthy relationships, and high levels of civic engagement.
Likewise, we know that teachers who develop their own social-emotional skills not only improve their own well-being, but also enhance the social, emotional, and academic development of their students.
We also know that supporting students, staff, and school communities has always been a complex and multi-faceted endeavor. But today, with districts responding to towering challenges during the global COVID-19 health crisis while our nation simultaneously reckons with a renewed focus on systemic racism, the need to reimagine the ways in which we address social-emotional learning through a racial equity lens is more important than ever before.
As Robert J. Jagers, Vice President of Research at the Collaborative for Academic, Social, and Emotional Learning (CASEL), shared during the 2020 SEL Exchange Virtual Summit:
"In order for SEL to adequately serve those from underserved communities – and promote optimal development outcomes for all students and adults – it must cultivate in them the knowledge, attitudes, and skills required for critical examination and collaborative action to address root causes of inequities."
In other words: how can SEL efforts in schools and districts contribute to more equitable learning experiences and outcomes for students (and adults) from diverse backgrounds?
Transformative SEL, or a form of social and emotional learning that is intended to promote equity and excellence in schools by building authentic relationships between students and adults that facilitate co-learning to explore inequities and co-create inclusive solutions, may provide some answers.
This research brief will equip you with a comprehensive understanding of what transformative SEL is and various approaches for advancing transformative competence development. By the end, you'll walk away knowledge and tools to lead transformative SEL efforts in your school or district.

Download: The District Leader's Guide to SEL and Equity


1. What is Transformative SEL?
2. Transformative Versions of the Social and Emotional Competencies
3. Approaches for Advancing Transformative SEL
4. Transformative SEL Resources
What is Transformative SEL?
Transformative SEL is a process through which students and teachers build strong, respectful relationships founded on an appreciation of similarities and differences; learn to critically examine root causes of inequity; and develop collaborative solutions to community and social problems. It is a form of SEL anchored in the notion of justice-oriented citizenship and intended to promote equity and excellence among children, young people, and adults.
The concept of transformative social and emotional learning was first introduced in a 2018 CASEL report as a way to specifically address the potential of social and emotional learning to combat the educational, social, and economic inequities that exist as a result of decades of racialized cultural oppression in the United States.
In practice it is an approach to SEL that allows practitioners to effectively address privilege, prejudice, discrimination, social justice, and self-determination in K-12 settings. It requires an explicit examination of the root causes of racial and economic inequities in hopes of fostering justice-oriented self-awareness, social awareness, and responsible actions (both individual and collective) in students. In this way, transformative SEL can act as a lever for equity by elevating students (alongside adults) as experts in shaping a more equitable, just, and inclusive world.
While key social and emotional competencies such as self-management, self-awareness and social awareness can be expressed similarly across developmental stages, they are often expressed differently by culture. As such, education leaders and practitioners must be mindful of students' cultural, racial, linguistic, and economic backgrounds when considering approaches to implement SEL initiatives. In order to achieve true educational equity, every student needs to have what he or she needs when they need it, regardless of gender, ethnicity, disability, language, income, or family background.
A transformative approach to social-emotional learning supports school districts in their efforts to achieve equitable developmental outcomes that expand beyond achievement and encapsulate how to engage students in understanding how their social, emotional, and academic learning connects with historical contexts in their communities. By implementing SEL content and programming that intentionally weaves in social justice and empowers students as co-creators of equitable solutions, districts can truly emphasize students' cultural assets, voice, and agency.
Questions to Consider
As a school or district, are we thinking about academics, SEL, and equity as separate streams of work, or as interconnected factors that are inextricably linked?

Are we actively discussing and investigating issues of equity in our school community?

Can we leverage professional development or PLCs to help teachers and leaders create equitable learning environments that are proactively anti-racist, inclusive, and healing oriented?

Are we focusing too much on SEL competencies without considering the environments in which our students are growing up in?

Are we monitoring and iterating on our approach to SEL through an ongoing cycle of continuous improvement?
Transformative Versions of the Social and Emotional Competencies
The popular "CASEL 5" address five broad and interrelated areas of social and emotional development: self-awareness, self-management, social awareness, relationship skills, and responsible decision-making.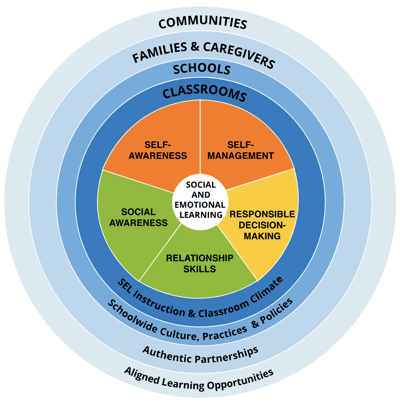 [Source: www.casel.org]
When viewed through a racial equity lens, however, transformative versions of these core competencies emphasize a more global, justice-oriented focus that touch on identity, intersectionality, and belonging:
Self-Awareness encapsulates the understanding of one's emotions, personal and social identities, goals, and values, including: the ability to accurately assess strengths and limitations, having positive mindsets, and possessing a well-grounded sense of self-efficacy. High levels of self-awareness require the ability to recognize one's own biases; to understand the links between one's personal and collective history and identities; to critically self-analyze; and to recognize how thoughts, feelings, and actions are interconnected in and across diverse contexts.
Self-Management requires skills and attitudes that facilitate the ability to regulate emotions and behaviors, including the ability to manage stress, delay gratification, and control impulses. Perseverance and the ability to proactively address personal and group-level challenges to achieve collectively defined goals are indicators of high levels of self-management.
Social Awareness involves having the critical historical context to practice perspective-taking with individuals of various backgrounds and cultures. It also involves understanding social norms for prosocial behavior in diverse interpersonal and institutional settings and recognizing family, school, and community resources and supports for personal and collective wellbeing.
Relationship Skills includes the interpersonal sensibilities needed to establish and maintain healthy relationships and to effectively navigate settings with differing social and cultural norms. Active listening, clear communication, constructively negotiating conflict, offering leadership, seeking help, working collaborative, and resisting social pressures are all indicators of competence in the relationship skills domain.
Responsible Decision-Making incorporates the cultivation of knowledge, skills, and attitudes to make caring, constructive choices about personal and group behavior in social interactions within and across diverse settings that prioritize collective health and wellbeing. It requires the ability to critically examine ethical standards and behavioral norms while making realistic evaluations of benefits and consequences for one's actions.


Questions to Consider:
How are we defining the core social and emotional competencies in our district? Do we share common definitions or a framework with students, educators and families?
What are the similarities and differences in your staff's lived experiences and those of the student body? What are the historical and contextual factors that influence this?
How would you describe the social dynamics among students from different backgrounds in your school community?
How can we help our students develop their social and emotional competencies so that they can grow into informed, engaged citizens?
Approaches for Advancing Transformative SEL
Programs and approaches to transformative social and emotional learning are ones that emphasize identity development while integrating issues of race, class and culture within academic content. Transformative SEL can support (and help scale) schoolwide and districtwide efforts to support students, build a sense of community, and instill a genuine appreciation for students' backgrounds.
Though not yet widely used or evaluated through research, the following approaches offer great potential for advancing transformative SEL implementation in service of educational equity:

Cultural integration. Connecting student's cultural assets to academic concepts and skills through culturally responsive education allows SEL skill development while intentionally affirming student identities and lived experiences. This approach can also help to build student cultural competence by providing them with windows through which to explore the lived experiences of others as well as mirrors that reflect their own identities and experiences.
Youth participatory action research (YPAR). Community-based participatory research can be implemented with students to engage them in identifying, researching, and addressing real-world problems -- both locally and globally. By incorporating a student-centered approach can help develop critically informed and engaged students.
Project-based learning (PBL). PBL encourages collaborative problem-solving and can be introduced into classrooms via school-wide programs, externally developed curricula, or through teacher-led efforts. Students are tasked with identifying a challenging problem or question, explore it from a multitude of perspectives, reflecting on their learning with their peers and adults, and collaborate to develop possible solutions.
SEL assessment that considers contextual factors and captures cultural assets. Without data, it can be difficult to understand what the experience of students is or what discrepancies might exist (by race, gender, or socioeconomic status). Districts need to equip administrators and educators with data that illustrates how students are feeling socially and emotionally, their sense of belonging, and their perception of the school climate. Similarly, students need to feel as though their voices are being heard and that their feedback is influencing changes in practice and policy.
Adult SEL.

Building the capacity of caring adults needs to be at the heart of any transformative SEL efforts. Pre- and in-service professional development need to explore unconscious bias and guide educators in taking an assets-based approach to their work with underserved students. When caring adults are both continuously reflecting on their own values, views, assumptions, and biases as well as employing self-awareness and social awareness, they are better equipped to influence positive changes to address issues of equity at the school and district levels.
Questions to Consider:
Does our school or district embody values and norms that are specific to our local community?
What practices, policies and programs are currently being implemented to create equitable educational experiences for all students?
Can we assess whether or not certain school policies or programs are unintentionally signaling to students that they don't belong? Are there policies that disproportionately impact students for how their bodies present, how they dress, or how they speak?
Are we aware of what the experience of students is or what discrepancies by race, gender, and socioeconomic status are?
How are we providing our staff and educators with the tools they need to consider the world from the viewpoint of their students and reexamine perspectives?
What supports do we have in place for educators to examine and address their own biases?
Additional Transformative SEL Resources
This guide is just a starting point for exploring the topic of systemic SEL. Here are some resources to explore next: