Each year, thousands of school and district leaders, educators, and students participate in Breathe For Change's yoga, mindfulness, and social-emotional learning programs to improve their individual and collective well-being.

Now, teachers can explore self-care resources and classroom mindfulness activities from Breathe For Change on Playbook, Panorama Education's online professional learning library. The resources seek to strengthen and care for the whole educator, so that they are equipped to share wellness and social-emotional learning practices with others in a sustainable way.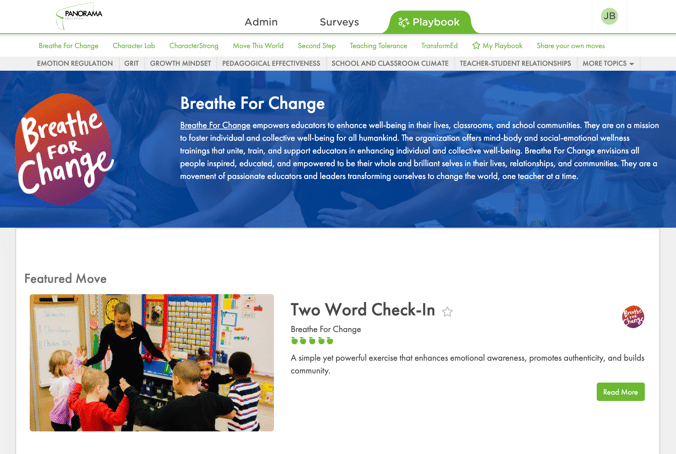 The Breathe For Change self-care practice guides directly support educators in coping with stress, managing emotions, and positively modeling SEL skills (such as prosocial behaviors, social awareness, and self-awareness) with students. Additionally, their mindfulness activities for students are interactive, flexible, and easily differentiated based on grade level.
The strategies from Breathe For Change align directly with topics on the Panorama Social-Emotional Learning Survey, including:
Emotion Regulation
Social Awareness
Self-Efficacy
Teacher-Student Relationships
School and Classroom Climate
Sense of Belonging
Growth Mindset
Download the Panorama Social-Emotional Learning Survey.
An activity called "Bear Belly Breathing," for example, provides students with tools to identify and manage their emotions. Educators guide students through a mindful breathing exercise and then reflect on how this type of breathing can help them feel calm and relaxed. The associated "Educator Guide" outlines ways to differentiate the activity based on specific contexts, such as through a trauma-informed lens (e.g., ensuring that all students feel safe by giving them the option to keep their eyes open vs. closed during the activity).




For educators looking to enhance their own wellness practice and social-emotional learning skills, "Breathe For Beginnings" is an accessible guided meditation that equips educators with instructions on how to weave breath awareness exercises into their own day.
Panorama's Playbook connects teachers, counselors, and school leaders with easy-to-implement resources, activities, and research related to emotion regulation, grit, teacher-student relationships, adult SEL, and more. Teachers explore Playbook when they are looking to take action on their Panorama student survey data on school climate and social-emotional learning.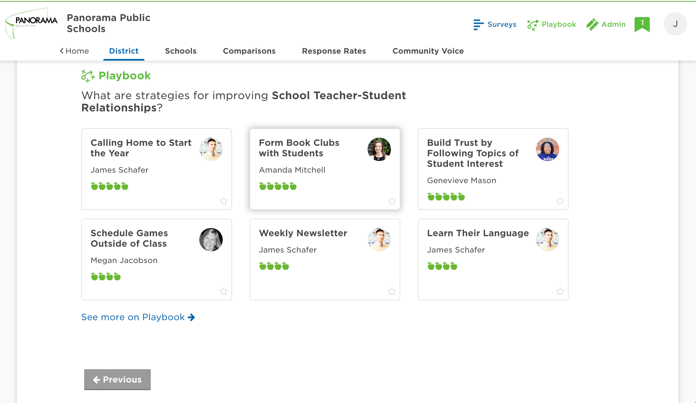 As schools and districts across the country continue to support students' social, emotional, cultural, and cognitive competencies, we're thrilled to share innovative strategies from expert organizations like Breathe for Change. Find them at @Breathe4Change_ on Twitter, and share how you're implementing these activities with us @PanoramaEd!


Additional Resources to Enhance Well-Being in Your Life and Community: